Acting President Osinbajo Signs 2017 Budget
Posted on June 12, 2017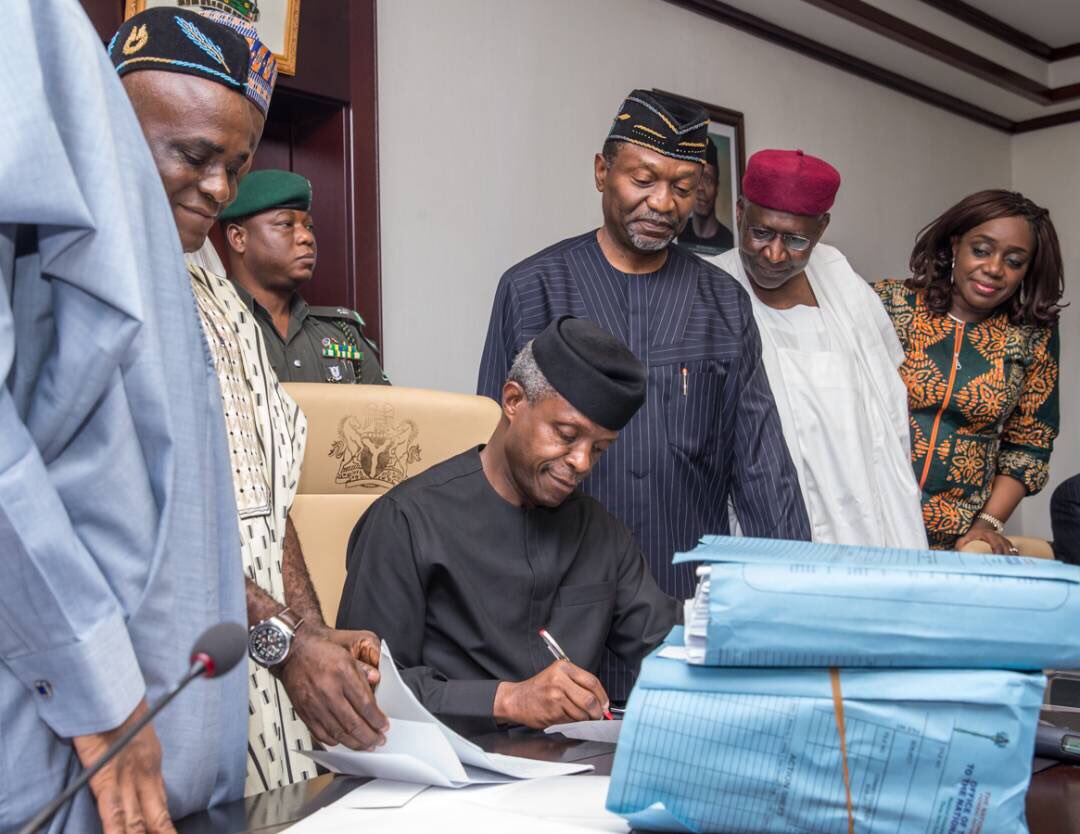 Nigeria's Acting President Prof. Yemi Osinbajo on Monday afternoon signed the 2017 Appropriation Bill into law.
Osinbajo assented to the appropriation into law at a brief ceremony inside Presidential Villa, Abuja attended by leadership of the National Assembly, Senate President Bukola Saraki, House Speaker Yakubu Dogara, as well as members of the Federal Executive Council.
The budget assented to is N7.441 trillion, of which N2.1 trillion will be for capital expenditure.
"I just signed 2017 Budget into law. It's an important milestone in our economic recovery & growth plan laid in April by President Buhari," the acting president said.
According to the acting president while signing the budget, he noted that "our path to progress and abundance is clear. The tools are in place and the resilient, resourceful and hardworking Nigerian people are set to go.
"I have no doubt that by the grace of God, the bleakness of recession is about to witness the uplifting dawn of abundance."
Osinbajo commended the National Assembly for the quick passage of the appropriation bill.
"I'd like to express appreciation to the National Assembly for completing the work of the 2017 Appropriations Bill," he said.
The National Assembly on May 11, passed the 2017 Appropriation Bill, raising the figure from N7.30 trillion presented by President Muhammadu Buhari on December 14, 2016, to N7.44 trillion.
In the approval, Statutory Transfers got N434 billion, N1.8 trillion for Debt Servicing, N177.5 billion for Sinking Fund for Maturity Bonds and N2.99 trillion for Recurrent Non-Debt Expenditure.
Contribution to the Development Fund for Capital Expenditure, exclusive of the capital expenditure in statutory transfers for the year ending December 31, 2017, got N2.2 trillion.
The chamber pegged crude oil production for the budget at 2.2 million barrels per day, with foreign exchange rate of N305 to a dollar.