Why Actress Toyin Aimakhu Has To Adopt A New Identity
Posted on December 29, 2016
FUNSHO AROGUNDADE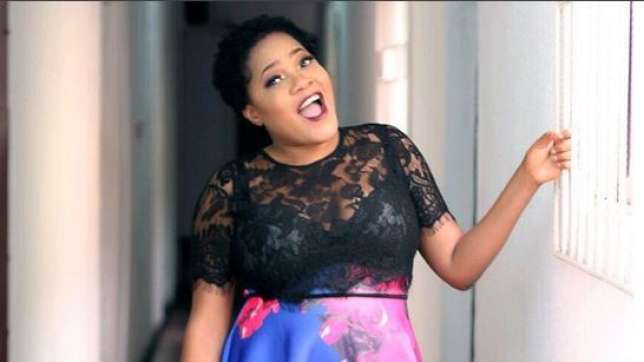 The year 2016, for top Nollywood actress Toyin Aimakhu has been eventful but controversial.
The multiple-award winning actress has been mired in different controversies from marital crises, to a very bad fling and then a good deed-turned horrible gesture.
These have one way or the other affected her Toyin's brand, necessitating the call for her to slow down for the sake of her career and then reboot.
It was learnt that the first step as the new year about to roll in was the adoption of a new identity as the actress 
formerly known as Toyin Aimakhu is now wish to be called Toyin ABRAHAM from now onward. 
In a short message sent to P.M.EXPRESS by Toyin's media reps, People's Post Media, t
he actress said the reason behind her name change, "is a family decision and will like to be officially addressed as Toyin Abraham henceforth."
The actress has went further to change her profile on all social media platforms including her Instagram account; Snapchat, Twitter and others to reflect her new identity.
Our correspondent effort to get Toyin or her media reps to explain further on reason(s) behind the change of name was futile as at press time.
But a close source told this newspaper that the actress and her siblings, for a very long time, have been directed by their father to drop the old family name, Aimakhu for the new name, Abraham, in sync with their new status as pastors.
While the rest of Toyin's siblings took heed of their parents' directive, the actress stuck to the old name until now because of her career.
The source said the actress has to finally reverted to Abraham after the cocktail of ugly controversies that has dogged her person and her career from the beginning of this year.
A chronicle of Toyin's life on the circus started some time in November 2015 when she started dating controversial movie marketer Seun Egbegbe as her marriage to young actor Adeniyi Johnson hit the rocks on the ground that he cheated on her.
In between then, there were unending cycle of covert and overt digs between herself and Johnson.
Despite several pleas from Johnson, the actress later moved on with her life by hooking up with Egbegbe again.
She did all these in spectacular fashion on social media.
Then the Mayowa Ahmed saga further affected Toyin's reputation as many of her fans were not really pleased with her role in the whole issue leading to the death of the young woman struck by cancer in South Africa.
Then came November when Egbegbe, the dodgy businessman was allegedly caught stealing iPhones in a shop inside Computer Village, Ikeja, Lagos.
In spite of the fact that the versatile cross over actress has long cut ties with the controversial dude, Toyin Aimakhu's name was constantly mentioned in many of the reports to illustrate the personae of Egbegbe.
The damage, we learnt, was telling on her brand.
This provoked her to reason that it's high time to heed her parents' earlier instruction to revert to Abraham.
In spite of the numerous negative happenings and flak she received in 2016, Toyin remained so busy on various locations of some top-notch productions.
Presently, she is busy working on her new project 'Alakada Reloaded' among many other works.
She also brought her A-Class delivery into her role in Omoni Oboli's latest flick, Okafor's Law.
Toyin, a beautiful woman, funny and talented actress, with a good fashion sense, these combination of qualities spurred a beautiful article on her by the popular entertainment news website
www.thenet.ng
in September while on the verge of recovery from the numerous controversies that she contended with in 2016.
With over a million fanatic followers on Instagram and hundreds of thousands on other platforms, it seems a new surname of "Ms Toyin Abraham" would be a fresh start for year 2017.