Ekiti Guber Polls Schedule: Locust Days Are Numbered, Says Group
Posted on October 9, 2017
MICHAEL AKINOLA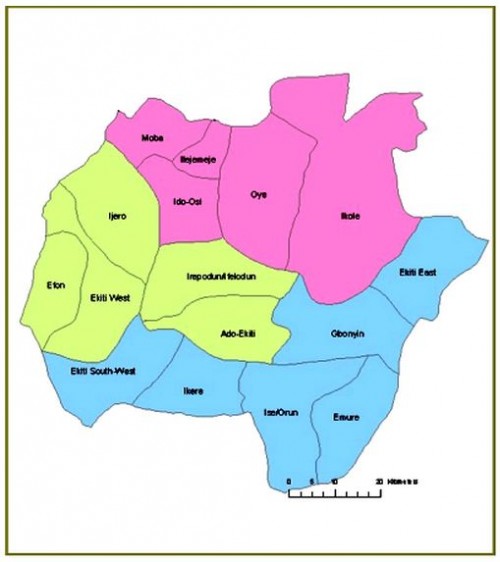 An Ekiti-based socio-political group, the Ekiti Rebirth Organisation (ERO), has hailed the Independent National Electoral Commission (INEC) over the recently released schedule for governorship election in the state.
The group said the announcement signals a significant step towards "banishing locusts from our state."
Speaking with journalists in Ado-Ekiti at the weekend, ERO Director General, Chief Felix Adebisi said: "We welcome this INEC timetable wholeheartedly; it is a major step towards sending out the locusts that have ravaged our land, impoverished our people and inflicted our state with poverty and disease."
INEC had recently through its National Commissioner and Chairman Voter Education (IVEC), Prince Solomon Adedeji Soyebi, announced that the Ekiti governorship election will hold on July 14, 2018.
The INEC Commissioner pointing out that the tenure of the incumbent governor, Ayodele Fayose will expire on October 15.
According to him, "Notice of Election" will be issued for the Ekiti governorship election on April 4, 2018 while campaign by political parties will be allowed between April 15 and July 12.
Adebisi, while further commending the umpire for the timely release of the polls schedule, stated that "Ekiti people have strong faith in our democracy. We have suffered long under the present maximum ruler and are excited with any piece of news of hope that his days are numbered.
"The INEC governorship timetable is in tune with the rhythm of hope now playing people's ears, it syncs with that melody of confidence that we will use the ballot box to re-write the fortune of Ekiti and restore all lost glory."
The ERO DG further pointed out that "these are trying times in Ekiti, workers are owed upward of nine months salary and you have a governor that went on national TV to lie that he is owing only four months!"
"We have a governor who abandoned his long suffering people to embark on a wild goose chase in the form of a laughable presidential ambition. One who promised to use agriculture to revamp the national economy but failed to tell the world that he has not caused one single hectare of farm to be cultivated in the state he has misruled for over three years. There is therefore, no news as cheery as one that says his days are numbered."
Adebisi said his group will take that message of hope to all the nooks and cranny of Ekiti, stressing what it would be saying to the people is "put the INEC timetable on the wall of your house. Check it every morning and say hope is near. Ekiti's rebirth is sure"