I'm Not In A Hurry To Leave Prison – Man Tells Mom
Posted on January 12, 2018
CYRIACUS IZUEKWE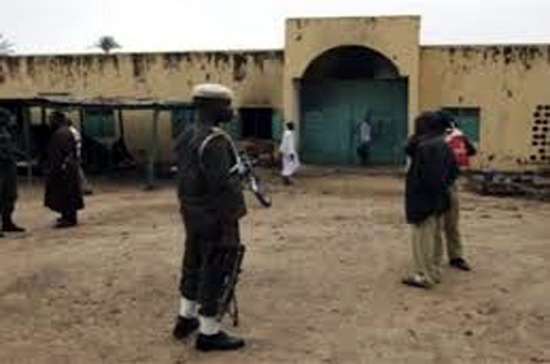 A 24-year old Itoro Bernard Akpan who was arrested and remanded in prison custody has asked his mother not to border about his release because he was not in a hurry to leave prison custody.
This was disclosed by the mother, Mrs. Glory on Wednesday at the Lagos court where she expressed shock and disappointment over his stance to remain in prison custody.
The suspect was arrested and charged before an Ejigbo Magistrates court for conduct likely to cause breach of peace and being in possession of substance suspected to be Indian hemp.
The incident happened at Idimu area of Lagos where the police arrested Akpan and other suspects at a black spot smoking the substance.
P.M.EXPRESS gathered that Akpan pleaded not guilty and was granted bail in the sum of N100,000 with two sureties in like sum. He was remanded in prison custody pending when he will perfect his bail condition.
The embittered mother had raised some money to facilitate his bail condition and informed him of her efforts to get him released from custody. However, the mom received a shock when she went to the court to perfect his bail condition.
P.M.EXPRESS confirmed that Akpan intimated his mom that he was not yet ready to come out from prison custody and asked her to keep the money she had realised until he was ready to leave the prison.
People wondered what would have made Akpan to choose to remain in prison custody at Kirikiri despite the condition of prison that regulates the movement of inmates.
It was gathered from the embittered mother that Akpan had no feasible business he was doing and was only doing odd jobs to survive before his arrest. The mother said that it might have informed Akpan's decision to remain in prison as some inmates had testified in the past that the Nigerian prisons were now better unlike in the past.
Akpan was not the only inmate that had preferred to remain in prison because they felt the place was better. P.M.EXPRESS had reported how a 26-year old woman wept bitterly after an Isolo Magistrates court had released her from custody but she refused to leave the prison. Her reason was that the prison officials showed her love and care unlike when she was outside and so she chose to remain with them in prison custody.