JUST IN: Ambode Orders Dissolution Of Boards Of Sports Associations In Lagos
Posted on February 14, 2018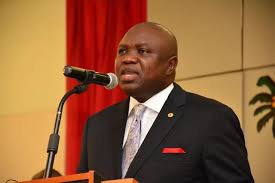 News coming from the Lagos State Government says the Governor, Mr Akinwunmi Ambode, has ordered and approved with immediate effect, the dissolution of the 36 sports associations excluding the state's Football Association.
All the sports associations and the football association are under the supervision of the Lagos State Sports Commission headed by Dr Kweku Tandoh.
The Executive Chairman, Lagos State Sports Commission, Dr. Tandoh, who conveyed the state government's action to the chairmen of the associations at a meeting Wednesday, said the dissolution becomes necessary to enable the State Government to rejig and reposition the activities of all the sports associations in line with the vision of the state becoming the Sports hub of Africa.
The sporting associations which boards were dissolved are Athletics, Badminton, Baseball and , Boxing, Cricket, Cycling, Chess, Darts, Fives, Football, Gymnastics, Handball, Hockey, Judo, Karate, Kick-boxing, Kung fu, Tennis, Rugby, Rowing and Yachting, Scrabble, Shooting.
Others are, Squash, Swimming, Table tennis, Taekwondo, Tug of war, Weightlifting, Wrestling, Volley-ball, Golf, Deaf sports, Para Sports, Traditional sports, Triathlon and Sports Medicine.
Dr. Tandoh, on behalf of the Lagos State Government, commended and thanked the Chairmen and members of the dissolved boards for their dedication and the voluntary services rendered towards the development of sports at the grassroots in Lagos State.
It will be recalled that the present boards of the 36 sports associations were reconstituted in 2012 and their tenure had expired since Year 2016.