Osun PDP Truce: Omisore Receives Exceptional Commendations
Posted on June 23, 2017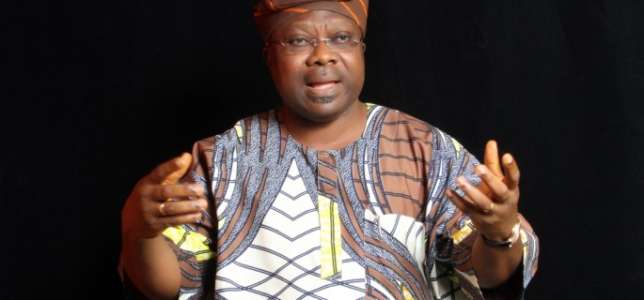 The astute leadership quality of Senator Iyiola Omisore has been extolled by top political and thought leaders in Osun State. These commendations are coming on the heels of the truce brokered by Omisore among the PDP warring factions in the state.
In what seemed a forlorn hope, the protracted feud which had polarized the party into two main camps; Senator Ahmed Makarfi and Senator Alli Modu Sheriff's camps, came to an abrupt end on Saturday June 17, 2017 at the country home of Senator Omisore in Ile Ife, Osun State.
Giving an insight into how Omisore was able to achieve this feat, a close associate of the Senator, who craved for anonymity, disclosed that "Otunba Omisore had not been happy with the retrogressive state of the socio economic life of Osun State under the APC leadership; and believed if the disunity in the PDP at both state and national levels is allowed to continue, the party will keep losing at all elective positions and the end losers will remain the people, his people.
"Worried by the continuous resentful feud among his party members, Omisore decided to reach out to all warring factions, and leaders of the party in the state. He conveyed a meeting where he appealed to all concerned to sheath their sword and come together for the progress of their beloved state and the party", the associate disclosed.
At the meeting, Omisore pleaded to all members to be ready to make sacrifice in order to reach a compromise for peace to return to the party. "As leaders, sacrifice should be our hallmark and we have decided to do that if we are to win the forthcoming senatorial and governorship elections next year.
"I urge everyone here to do same and I strongly advise that the saying, 'united we stand, divided we fall' should be our mantra from now. We should put aside our differences and forge a common front", Omisore appealed.
Factional leaders and party faithful at the meeting shook hands and embraced one another. They took turns to commend the exemplary leadership quality of Omisore and promised to unite and also ensure victory at subsequent polls.
Commending Senator Omisore for this rare feat, Ibadan politician and former Senate Leader, Senator Teslim Kolawole Folarin, described Omisore's peace initiative as "very impressive and statesmanlike. We have to come together if we want to win in any elective posts. If we refuse to embrace peace at both state and national levels, that is the end; we all go and look for another job, it's as simple as that. We must now work to see how the Omisore model can be applied to other states with protracted issues of factionalisation. Once again, well done Senator Omisore, we are all proud of you", declared Senator Folarin.
In the same vein, a Professor of Political Economy from the University of East London,Professor Isaac A. Coker, poured encomium on Senator Iyiola Omisore for his ability to foster unity within the PDP factional leaders and among aggrieved members of the party in the state.
In his statement sent online, Professor Coker wrote "very sincerely, without being sycophantic, the time you brought breakthrough to PDP in Osun state was timely and unexpected. Everybody was shocked. Iyiola Omisore is a leader and statesman. Nobody thought it could be as easy as that; all glory to God for using you to achieve this breakthrough. This exemplary sacrifice is historical for generations to come. No doubt, you are truly committed to 'Making Osun Great Again", Professor Coker professed in a signed statement he sent to the secretariat of Senator Iyiola Omisore Organisation.
One of the leaders of the splintered faction who also crave anonymity described Senator Omisore as a man of peace and a kind-hearted human being. In his remarks, the PDP stalwart wrote "Dr. Omisore, you are a man of peace, kind hearted with the Osun first spirit. Omisore is not desperate or blind to ambition. He is selfless and trust God for his direction. He is a core professional who sees politics as a vocation; an avenue to render service and deploy his God given talents/acquired skills and wealth to better the lots of Osun people", stated the anonymous party leader.
The outcome of the meeting include: all attendees signing agreement to stay together as one political entity; agreement to unite and present a common front ahead of the July 8 Osun West Senatorial election in the state, agreement to set up an ad-hoc committee on the Osun West Senatorial district by-election; agreement to integrate all members into various committees to work for the success of Otunba Ademola Adeleke, the party's flag bearer in the forthcoming Osun West Senatorial by election.
Party leaders in the state who attended the peace meeting include: Dr. Bayo Faforiji;  Honourable Soji Adagunodo; Dr. Ademola Adeleke, the party's flagbearer in the forthcoming Senatorial bye- election; Honourable Adejare Bello, two-term speaker of the State's House of Assembly; Rev. Bunmi Jenyo, South West Zonal Secretary of the party; and Alhaji Tajudeen Oladipo, a former South West Zonal chairman, among other party leaders present.
Senator Iyiola Omisore is an embodiment of intelligence who has made the pursuit of excellence his trademark.
He is an engineer and politician of note, and an astute manager of resources whose attention to detail, calmness, and ability to simplify, and proffer solutions to complex issues is uncommon. In fact, his patriotic zeal and engineering acumen were brought to play tremendously when he was in the Senate between 2003 and 2011 and the country benefited tremendously from this
Omisore's involvement in politics started early in life as his family has always been involved in politics both at sub-national and national levels. He has also been active in international relations, representing Nigeria's interest and position at various global processes and conferences.
In the transition years of the Babangida Administration, he was involved in the Social Democratic Party (SDP) and later became a member of the Grassroots Democratic Movement (GDM). During the Abacha years, leading to the Gen. Abdusalam Abubakar transition years, he got involved with the Pan Yoruba group Afenifere (a pre-democratic activist group largely in South West Nigeria), where he was caucus leader for Osun State and the South West region of Nigeria. It was natural for him to have been involved in the formation of People's Democratic Party (PDP), All People's Party (APP) and finally Alliance for Democracy (AD) where he was a top financial backer.
During his tenure in the upper legislative chamber in Nigeria between 2003 and 2011, Senator Omisore distinguished himself not only in name but also by the key positions he held and the achievements recorded during this period at all levels of governance. At various times, he was made chairman of six different important committees and he excelled without any hitch.
Omisore, a fellow of the Nigerian Society of Engineers, holds a Ph.D in Infrastructure Finance from the International School of Management, Paris, France.