Photos: When Ile-Ife Was Agog For Aje Festival Celebration
Posted on February 26, 2017
On Monday 21 February, Ile-Ife, Osun State was agog as many throng the ancient city to celebrate Aje Festival (Goddess of Wealth).
Markets in Ile-Ife were closed for business for the celebration by indigenes.
The markets are New Market in Odo-Ogbe area, Ejigbomekun, Ayegbaju, Itakogun, Fowobaje and Iloro markets among others.
Chief Pius Omoworare, the "Babaloja of Oja tuntun" in Ile-Ife commended Ooni of Ife, Oba Adeyeye Ogunwusi for making the festival to come to reality.
Omoworare expressed delight at the celebration of the festival, saying indigenes had long been waiting for its celebration.
"We are happy with our new monarch, we all selected him and since his coronation, a new dawn has started in Ile-Ife with many transformations.
"We know that this festival will bring more profits as it will attract well meaning people into the town to boost its economy,'' Omoworare said.
Mrs Bolatito Enitilo, who spoke on behalf of "Iyaloja of Ejigbomekun market" said that the Ooni had revived the festival as part of his effort of preaching peace and unity among the Yoruba people.
Many indigenes and non-indigenes, including those in the Diaspora were present at the festival.
Oba Adeyeye Ogunwusi later went to Ile-Aje, to pray for the people of Ile-Ife, the Osun people, the Yoruba race and Nigeria in general.
Ile Aje, according to Ile-Ife mythology, was the first market created on earth and indigenes believe that it was the origin of all markets in the universe.
The Ooni was the first king to celebrate the festival since it was created.
Iyaloja General of Nigeria, Folashade Tinubu-Ojo who led hundreds of leaders of markets from across Nigeria urged leaders in the country to use the opportunity of AJE festival to intensify efforts in ending recession in the country.
"Today is about our tradition, culture. Aje is a very important festival to boost our economy. I hope government will provide the enabling environment to keep this up. All countries have their tradition and ways of getting things resolved. Our leaders should work tirelessly to ensure that recession is not allowed to stay," the Iyaloja General said.
Popular Musician, King Wasiu Ayinde Marshal (KWAM 1), saluted the determination of Ooni Ogunwusi for ensuring that culture of the yoruba race does not perish.
"I am here to celebrate Aje which symbolises wealth. I congratulate Ooni for being the custodian of tradition. It furthers shows the richness of yoruba culture and this should continue," he added.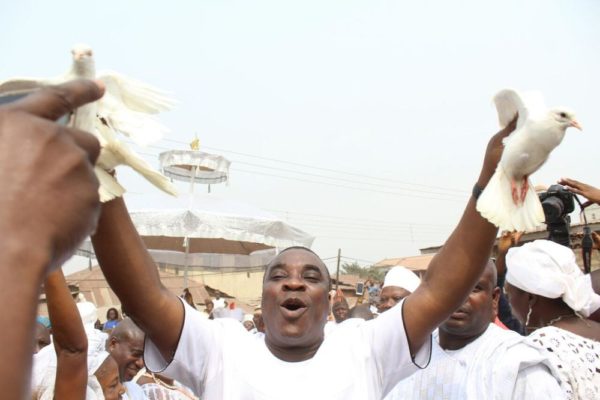 AJE is a deity associated with festivities like Olojo festival. Mankind still works for to earn a living and we toil lifetime for her in Oja Ife in Ile-Ife and globally as her spirit still answers the call of those who seek her sincerely.