Ronaldo Wins FIFA 2016 Best Player Award
Posted on January 9, 2017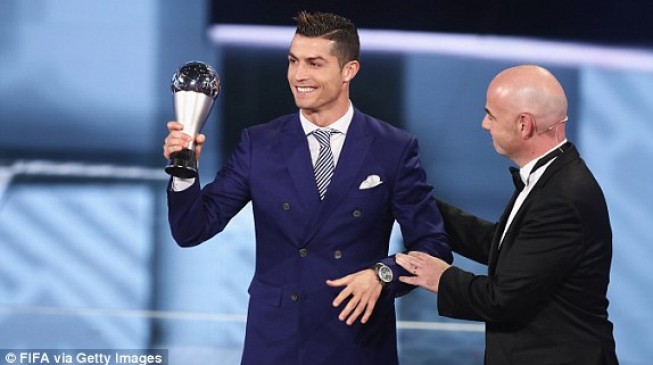 Portugal and Real Madrid forward, Cristiano Ronaldo has won the FIFA 'Best Player' award for 2016.
He won the award on the back of a fantastic year that saw Real Madrid win the UEFA Champions League and Portugal the EURO 2016 championship.
Ronaldo said winning FIFA's Best Men's Player for 2016 "shows that people aren't blind" after beating Lionel Messi and Antoine Griezmann to claim the prize in Zurich on Monday.
Ronaldo, who picked up his fourth Ballon d'Or in December 2016, also landed the first separate FIFA prize since world football's governing body and France Football announced in September that they would be presenting two separate awards.
"I'd like to thank my team, national team, Real Madrid, my trainer, my family that came here, my son, my brothers," Ronaldo said in accepting the award. "2016 was the best year of my career, the trophy shows that people aren't blind and watch the games.
"With everything I won with my national team and club, with great individual performance, I can't forget this incredible year. Thanks for voting for me.
"I don't have much more to say, I think the awards speak for themselves. I'm not going to do the scream, just the motion."
Ronaldo scored 61 goals and registered 20 assists in 60 games for club and country during voting period (48 goals in 47 games for Real Madrid; 13 in 13 games for Portugal), while Messi netted 59 goals, 34 assists in 64 games (51 goals in 53 games for Barcelona; eight in 11 games for Argentina) and lost in the Copa America final to Chile.
France striker Griezmann finished as Euro 2016 top scorer, and for club and country scored 41 goals and bagged 13 assists in 69 games (33 goals in 54 games for Atletico Madrid; eight in 15 games for France).
Messi did not attend the ceremony as expected after Barcelona announced earlier in the day that all their players would not travel ahead of their game Wednesday in the Copa del Rey, a move that drew widespread criticism from those in Zurich.
First awarded in 1991, the FIFA Best Player award (then known as FIFA World Player of the Year) was merged with France Football's Ballon d'Or from 2010 through 2015 — to become the FIFA Ballon d'Or — but France Football magazine announced new rule changes for its award last year and ended its six-year association with FIFA.
Before the partnership with FIFA, the Ballon d'Or was given to the top European player from 1956 from 1994. And between 1995 and 2009, it was awarded to the best player from any continent playing at a European club.
Since 2008, only Messi (one Ballon d'Or in 2009; four FIFA Ballon d'Ors in 2010, 2011, 2012 and 2015) and Ronaldo (two Ballon d'Ors in 2008 and 2016; two FIFA Ballon d'Ors in 2013 and 2014) have been awarded either top prize. Orlando City's Kaka, in 2007, was the last to pick it up outside the duo after guiding AC Milan to the Champions League that year.
Also on Monday, Ronaldo and Messi were both named to the FIFPro World11 team, but Griezmann was left out as nine of the spots went to players from Real Madrid and Barcelona.
United States star Carli Lloyd was named Best FIFA Women's Player, the second straight year she was honoured by FIFA.
Leicester City's Claudio Ranieri won the Best FIFA Men's Coach of the Year award, beating Portugal's Fernando Santos and Real Madrid's Zinedine Zidane on the shortlist, while Germany's Silvia Neid recieved the women's honour.
Mohd Faiz Subri won the Puskas Award for the best goal of the year with nearly 60 percent of the vote, for his free kick in the Malaysian Super League.