Waje Pulls Desmond Elliot, Ali Nuhu, Yemi Alade Others On 'Make Nigeria Stronger' Campaign
Posted on October 15, 2016
FUNSHO AROGUNDADE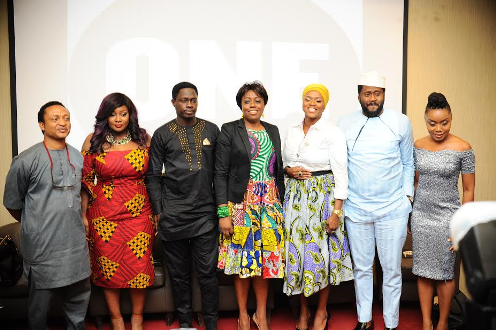 Nigerian Afro-pop diva and ONE campaigner Waje has enlisted the support of other entertainment luminaries including Desmond Elliot, Ali Nuhu, Kate Henshaw, Yemi Alade and Basketmouth on a  'Make Nigeria Stronger' campaign, which was started by the critically acclaimed Irish singer, Bono, few weeks ago.
Speaking at the unveiling held in Lagos recently, Waje explained that the mission of the campaign is to mobilize Nigerians from across various works of life, to call on the government to put priority attention to the health sector.
She said that there has been an increase in the level of health crisis in the country which in her opinion are as a result of the government not efficiently funding the health system.
"As a proud and patriotic Nigerian, it's particularly distressing to me that our country is suffering from a silent killer, health crisis, which is completely avoidable. It's time to act, Naija. We must come together with one voice and tell our government to do more by investing in the health of our children and families. By doing so, we'll Make Naija Stronger,"said Waje.
She however expressed excitement over the support from her colleagues on the campaign.
Lending his voice to the campaign, Desmond Elliot, a filmmaker and member, Lagos State House of Assembly, said the development in the health sector does not need to come solely from the government.
According to him, "The important thing is we need to start having a rethink on health situations, and the reason why the pressure is more in government, is only because the government is a policy making body. We need to impress upon them, that we need to start taking primary health care very seriously."
On his part, Kannywood star, Ali Nuhu, who also supports the campaign, pointed out that before the government succumbs to the various pressing health issues, citizens have to be sensitized to push for their needs.
His words, "Enough is enough! This is the message we are sending to government. A healthy Nigeria makes a wealthy Nigeria and we need to stand together to Make Naija Stronger. Now it's your turn. If you haven't added your voice to ask for our nation's health system to be made better, you need to do so right now."
Nachilala Nkombo, ONE Africa deputy director, said "while other African countries are improving their health indicators, inconsistent and insufficient health funding in Nigeria over the years has made access to basic life saving health services a luxury for ordinary Nigerians.
"The executive and legislative arms of government can change this permanently by ensuring that the 2017 will give the appropriate priority to the health sector. At the ONE campaign, we are committed to working in partnership with local groups to ensure that any health funding allocated in the budget is monitored to ensure that it reaches the neediest citizens," she added.