Weah, Liberian President-elect Set For Thanksgiving In The Synagogue 
Posted on January 5, 2018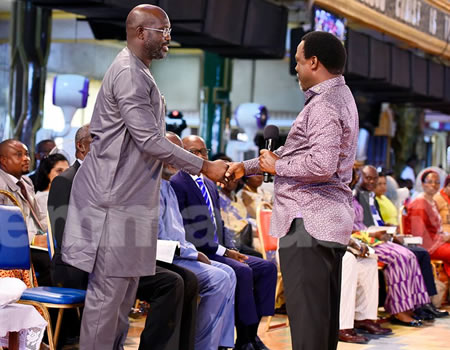 Liberian President-elect, Mr. George Weah is set to pay another visit to The Synagogue Church of All Nations at Ikotun area of Lagos State . 
According to sources, the visit of the president-elect is to thank God over his victory in the run-off election that led to his emergence as the Liberian President.
In October last year, the 51-year old President-elect had visited the church and attended one of the church's Sunday service accompanied by former Liberian Warlord and presently a Senator in that country, Prince Yormie Johnson.
Weah's visit to the Synagogue was said to have been facilitated by Johnson, who was a member of the church, during his stay in Nigeria.
Weah is said to have had a special session with the Founder of the Synagogue, Prophet Temitope B. Joshua, who assured him of victory in the November 7 rescheduled run-off election.
During the visit, Joshua was quoted at the time that, Weah's visit was to pray for an ideal candidate for the country to emerge.
"My brother is here today because he loves his country. He is not here to impose himself. What does God say about his country, Liberia? What is God's opinion? That is why he is here," said Joshua.
"We are not herbalists or witch doctors, we are people of God. God's choice is our choice. We cannot pray against God's will," he added.
The former World footballer of the year faced incumbent Vice President, Joseph Boakai in the runoff poll.
In the result released shortly after the election, Liberia's National Election Commission (NEC) said Weah had polled 61.5 percent while his opponent polled 38.5 percent of the total 98.1 declared. The president-elect had topped the first round of voting in October, last year with 38.4 percent of the votes but was unable to win 50 percent necessary to avoid a runoff.
Boakai came second with 28.8 percent.
Weah is not the first African leader to visit the church. Tanzanian President, John Magufuli; late Ghanaian President, John Atta Mills; former President of Malawi, Joyce Banda, among others had at one time or the other visited The Synagogue.
Categorised as : Politics, Religion
No Comments »