18 Nov Poll: I Won't Steal Your Money As I'm Contented, Ezeemo Tells Anambra People
Posted on October 29, 2017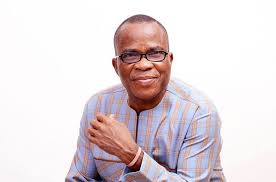 Governorship candidate of Progressive People's Alliance, (PPA) in next month's gubernatorial election in Anambra State, Godwin Ezeemo has vowed not to steal from the purse of the state, saying that if elected he will leave nothing to chance to ensure that the living condition of the people is improved.
"I have not come to make money or steal public Fund, " said Ezeemo when signing the Social Contract-Manifesto and inaugurating the PPA campaign for the election in Onitsha on Saturday.
''I am comfortable but I can no longer stand by and watch our people dying in the desert and the sea because they are looking for greener pasture.
"It is time we regenerate ourselves and guarantee the future of our society.
"I ask for your votes because that is what I need to work for you, my manifesto is a social contract between me and the society. I am signing it here and give it to you so that you can use to assess my government after you vote for me.
"I shall run a prudent and transparent government that will audit and publish Anambra government account annually.
"I shall focus on security, health, agriculture, power and education from my first day in office.
"I shall reduce the cost of governance drastically by eliminating luxuries and frivolous spending within my first three months in office," Premium Times quoted Ezeemo to have informed the people alongside his deputy, 36 year-old Stanley Nkwoka.