Controversy Trails ATM Mounted At Pastor Tunde Bakare's Church
Posted on June 19, 2017
CYRIACUS IZUEKWE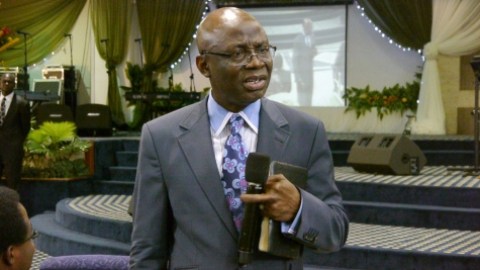 Firebrand Pastor Tunde Bakare of the Latter Rain Assembly may have good intentions for the church's decision to mount an Automated Teller Machine (ATM) in front of the church premises at Akilo road in Ogba Lagos, but that decision has turned into a controversy and staple for derision in the social media.
P.M.EXPRESS reports that what supposed to be a good intention by the church seemed to have been misconstrued to mean a way of exploiting the members of the church who are not even complaining.
It was gathered that while some said it was good in order to enhance financial transactions during church services such as donations, pledges, offering, tithes among other church activities that has to do with money, others were of the opinion that it was a deceitful ploy by the church and systematic way of coercing the members to withdraw their money for the church projects.
Some other set of people however observed that the church was located at a strategic place and by implication it was not only the church members that make use of the machine to withdraw money.
But the insinuation remained that it was a business concept just like any other business and many read negative meaning into the decision.
When our correspondent visited the church, Pastor Bakare could not be reached and none of the senior members of the church was willing to speak concerning the matter officially.
However, those who spoke to our reporter said there was no controversy over the matter.
One of the members said ATM was mounted in other private areas and it was not really meant for the church alone.
"When you look around the area, there are filling stations, companies, spare parts dealers and other businesses and the ATM offers services to them and their customers. It is safer within the church axis. That's what could have informed the location of the machine here and not for the use of church members alone," the member remarked.
P.M.EXPRESS findings revealed that the Latter Rain Assembly was not the only church where ATM was mounted as other churches mounted the automated machines or drew banks close to their churches.