Despite Old Age, Hayatou Good To Win CAF Election – Adamu
Posted on March 15, 2017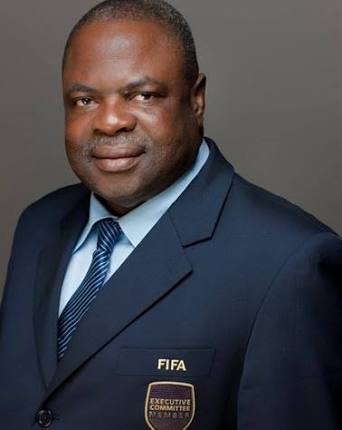 Dr, Amos Adamu, former FIFA Executive Member and CAF Executive Member told Francis Achi, Senior Correspondent of PM Express in Abuja in this exclusive interview about his views on the CAF Elections which comes up on Thursday, 16 March at Addis Ababa, Ethiopia.
The CAF Elections is fully set on March 16 and Ahmad Ahmad from Madagascar is challenging Issa Hayatou , the incumbent President of CAF. Do you think Ahmad Ahmad can win? 
It would have been very easy to say Ahmad Ahmad would win if he is a Nigerian, it would have been much more easy for me to give my total support if a Nigerian is the one contesting for CAF Presidency. I am a Nigerian, my full support would have gone straight to a Nigerian. Ahmad Ahmad is my friend. I know him very well. He has the right to contest.
What are the chances of Ahmad Ahmad? 
Well, I really dont know, but I think Issa Hayatou would win. Hayatou will end up winning again.
A lot of football stakeholders are of the firm opinion that Issa Hayatou has done well for football in Africa, but it is time a fresh face, someone younger to administer football in Africa. Hayatou is 71 years old. Age and health are not on his side
Yes, Hayatou is old. So is it a crime to be 71 years? Is age a crime? There are certain rules and regulations in CAF and Hayatou has not done wrong if he wants to contest again. If a footballer feels he will retire at a certain age like 35 , does this apply to football administrators too?  But if people say the older the wine, the better , which means the older the age, the better with experience for performance. Just because somebody is old , people wants him out . Old for what? If people are talking about health , nobody has a right over aging or health. It is one of the works of nature. People say Hayatou is not healthy, but he may be healthier than the younger person. So you understand that no matter the health challenges, Hayatou is not complaining that he is no longer interested to administer football in Africa. Africa shold give him another chance. You cannot say because someone is old, therefore he should go. Blatter, how old was he as FIFA President? What about Havelenge, how old was he? If you think because you are young and you believe that the older person should not be there , then tell us what are your plans. The people wants to know if you have better plans than the older person . Don't say because Hayatou is old or some group of persons are behind you then you want to be the CAF President. Hayatou is not playing football. He is administering the game .He has done that for many years and if you want to remove him, let it by election, not by saying he is old. If Hayatou has done badly all these years, then remove him. It is not Hayatou's fault that he is 71 years old. How will you feel if a young man comes to your office and say you are old , get out of here, I want to take over? That is not the proper thing.
Hayatou will be going for 8th term in office, why did he not groom a younger person to take over from him? 
That is his own style . it is not that very easy when you talk about leadership. Imagine today what you are doing well, somebody will just come to you and say look for younger person and let him do it well. How possible do you think a younger person can do it well? As a journalist and you want to head your union and some people begin to say you are too old, you cannot do it, you should leave the place. Is this how leadership is installed or uninsulated? At what age can you say somebody is old or at what age can you say somebody is sick . You can remove a leader if the law says after three terms in office or whatever the law says, not because of age and health . The law in CAF permits Hayatou at his age to contest again. That is the law. On the day of election, let the people decide and if the majority votes against him, he is out and if he wins, he will continue in office, age or no age. That is democracy at work.
Dr. Amos Adamu you had been in FIFA and CAF as a member of the executive committees in both federations and with all the support for Ahmad Ahmad coming from COSAFA, South Africa, Egypt and even the body language of Nigeria dancing towards him, with all the support… 
Which support .If you tell me that you want to contest for a position do you expect me to say no and if I say I wish you all the best is that a support? Do you know the support that Hayatou has? Do you know how many African countries supporting him for this  CAF election? Support is not by making noise. Look at the election of Donald Trump in America, millions of people did not think he would win, but today he is the president of the United States. All the opinion polls gave it to Hillary Clinton, but Trump is the President today. Election is not by making noise and shouting that you have the support of African countries. On the day of the elections Africans will know who has the support or not. Hayatou is calm and cool and it takes a cool head to win a hot war. Empty barrels makes the loudest noise.
What about your view on Amaju Pinnick , the NFF President is contesting for CAF Executive Committee against  Moucharafu Anjorin from Benin Republic? 
Anjorin is my friend. Amaju is my brother and like a son to me. I am praying for the two of them. Anjorin has been with me for a very long time. He used to be my campaign manager during CAF Elections. I remember the first time I contested in CAF, when no Nigerian stood by me then, Anjorin was there for me. So, I will not deny that I don't know him very well. And for Amaju , he is my son and my Nigerian brother. Amaju is contesting for the same position with Anjorin. I have told the two of them to campaign very well. I will not campaign for any of them. I am not voting, so they should campaign to the people who will vote . It is God that gives blessings  and whoever wins, so be it. Let the better candidate be determined by the people in CAF. Pinnick is my son. Anjorin is my friend .
Nigerians are still surprised over your recent ban for two years by FIFA. What really happened? 
I don't know what this ban is all about. I am equally surprised. Whenever there is an election, they will ban me. I don't understand it. My focus is different now and I don't want to dwell on the ban. They said my son organised legend dinner seven years ago, therefore I should be punished.
So you are being punished for the sins of your son? 
I don't know. FIFA is in the best position to tell me because I cannot understand this ban. That is the problem of FIFA to tell the world. They are afraid of me over nothing.
It appears that FIFA President Gianvani Infatino does not really like your person. 
Cuts…
But God loves me. If Infantino does like me but God loves me. Which one is better? I don't know if Infantino likes me or not. I don't have any quarrel with him. FIFA President is campaigning for Ahmad Ahmad in Africa. Infantino does not have the right to campaign for any candidate, that is a breach of FIFA ethics, but he is doing it, supporting Ahmad Ahmad behind the scene. He is the boss in FIFA, let him continue , imagine FIFA President is campaigning for Ahmad Ahmad, which is very wrong , but he is the President of FIFA, nobody can stop him . All I know is that I don't have any bitterness against him. I pray that God will choose the person for Africa on Thursday.