Group Wants Nigerians, Africans To Support Bash Ali World Title Fight
Posted on January 9, 2017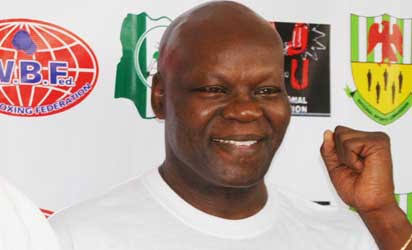 The Nigeria's Global One Vision Initiatives has called on Nigerians and all Africans to give their full support to the forthcoming Guinness Book of World Record Boxing Championship which will involved Bash Ali (OON) of Nigeria and American Rick Camlin. 
The historic fight, the first of its kind in Africa, has received the backing of the Federal Government of Nigeria with the Minister of Youth and Sports, Barrister Solomon Dalung, saying that the government will provide enabling environment for the staging of the fight involving Ali, who holds cruiserweight title of World Boxing Federation (WBF) and Camlin, the champion of International Boxing Union (IBU)  at a yet to be fixed date in Nigeria.
Dr. John Kennedy Osuala (KSJI), National President of  Nigeria's Global One Vision Initiatives, said in a press statement on Monday that the group is so glad with the support from the government, adding that "the recent approval by the Federal Government of Nigeria to ensure the hosting of the Bash Ali's pioneered first Guinness World Record Fight in Africa this year, is indeed heart warming. It's a pointer to greater attention and focus to promote competitive sports not only in Nigeria, but the entire African continent."
Osuala called "on all Africans, Nigerians, state governments, local governments corporate bodies, traditional institutions, voluntary organizations, chambers of commerce, professional associations, religious organizations, transport workers unions, market associations, town unions, student and women groups to throw their maximum weight behind Bash Ali in order to make this first Guinness World Record Fight, a monumental successful, and memorable event, this year."
According to him, "all hands must be on deck because this is a patriotic, nationalistic, and pragmatic event that will consolidate Nigeria's national unity, national liberty, national productivity, and national prosperity."
Osuala said that "the Nigeria's Global One Vision Initiatives commends the indefatigable current WBF cruiserweight champion, our own Bash Ali, for his originality of thought and ebullient patriotism in conceptualizing this first Guinness World Record Fight in Africa, which is the biggest sporting event in the world to take place in Nigeria this year.
"Nigeria's  Global One Vision Initiatives is convinced that this Bash Ali Global Boxing Project in collaboration with the Federal Government of Nigeria, through the Federal Ministry of Sports, will act as a new push to boost  overall investment in professional competitive sports and sports related activities from gyms, leisure centres to sports nutrition, equipment manufacturers and retail businesses in Nigeria.
"In fact, the boxing creative genius, who at 60 wants to take his 35 years old young opponent to the cleaners, told us how this fight will benefit Nigeria and its people. We understood that the Guinness World Record Fight, will lead to the establishment of five sports academies and about five sports equipment manufacturing factories, across the country with the view of making Nigeria a global manufacturing centre.
" We also learnt that this global boxing event will be watched in 135  countries of the world. This will no doubt create the most auspicious enabling environment for corporate bodies in Nigeria, Africa and the world to back sports in our country, thereby boosting employment and wealth creation. We strongly believe that a move towards comprehensive private sector funding of sports is not only good for the sports themselves, but offers strategic new business opportunities for firms interested in sponsoring sports in exchange for advertising right that will enable their focus on target customer groups with razor shape accuracy."