How Ghanaian Popular Herbal Drinks, 'Alomo' Derived Its Brand Name
Posted on August 26, 2017
ISRAEL TAIWO

PMEXPRESS can report the reason the brand name 'Alomo' was given to the popular herbs drink, Alomo Bitters, manufactured by a Ghanaian company, Kasapreko Company Limited.
The reason was made public during the media launch of the new-look Alomo Bitters in Lagos on Friday.
Alomo Bitters is a herbal liqueur made from carefully chosen tropical medicinal plant extracts and very well known for its proven medicinal values, improved peripheral blood circulation which supports full body function and good health and vitality.
The story of Alomo Bitters could be traced back to 1995 Dr. Kwabena Adjei, the chairman of Kasapreko Company Limited approached the Center for Plant Medicine Research for a collaboration into the development of Alomo Bitters.
He was unfortunately turned down as the then team at the center indicated to him that they were a government agency solely responsible for research and not commercial work.
However Dr. Kwabena Adjei persevered and after close to two years of continuous engagement the center finally accepted to collaborate on the establishment of a scientific basis for the use of medicinal plant extracts in alcoholic drinks.
PM EXPRESS gathered that the Center's response was engagement of a group of research scientists (Botanists/Taxonomists, Pharmaco – toxicologist, Phyto – chemists, microbiologists) on this project to come out with an alcoholic herbal liqueur with some medicinal benefits.
In 1999, Kasapreko Company Limited flagship brand, Alomo Bitters, was born out of the research conducted at Mampong Akwapim.
The medicinal plant extracts used in formulation of Alomo Bitters were scientifically evaluated for functionality, safety and quality.
This included; plant identification and collection, pharmaco-toxicological studies to establish safe and effective levels of application and dosage and phytochemical analysis to determine the chemical constituents and standardization.
Why the name Alomo?
The exciting story was told that after the formulation of this exciting African herbal liqueur was completed, it needed to be formally launched. But before Dr. Kwabena Adjei could do that, he needed to give this unique product a name. Dr. Adjei chose the name Alomo, which simply meant intimacy in one of the Ghanaian local languages.
Alomo Bitters was outdoored in April 1999, the first commercially-produced bitters product in Ghana and West Africa and it has proven to be a winner!
With the choice of Alomo as brand name, Dr. Adjei's idea was to connect the brand to the consumer, bring couples closer, enrich friendships and make social moments memorable with Alomo Bitters!
According to various industry reports and insights, Alomo Bitters is holding the major market share in the bitters market in Nigeria hence the success growth of the company in that country.
What's behind the jump?
The drink is said to hold aphrodisiac qualities for men and women.
Nigerians mix the beverage with non-alcoholic beer -sales of that have soared in the country too. The supposed sexual enhancing properties "hit all the right buttons in Nigeria."
"We are leading the bitters market not only in Nigeria but also in Ghana where we began. This is because our vision has always been to produce quality and authentic herbal drinks such as Alomo Bitters which is derived from Africa's rich heritage of herbs by using modern research and development methods to transform traditional recipes into desirable consumer brand," Chief Executive Officer of Kasapreko Richard Adjei said in an interview recently.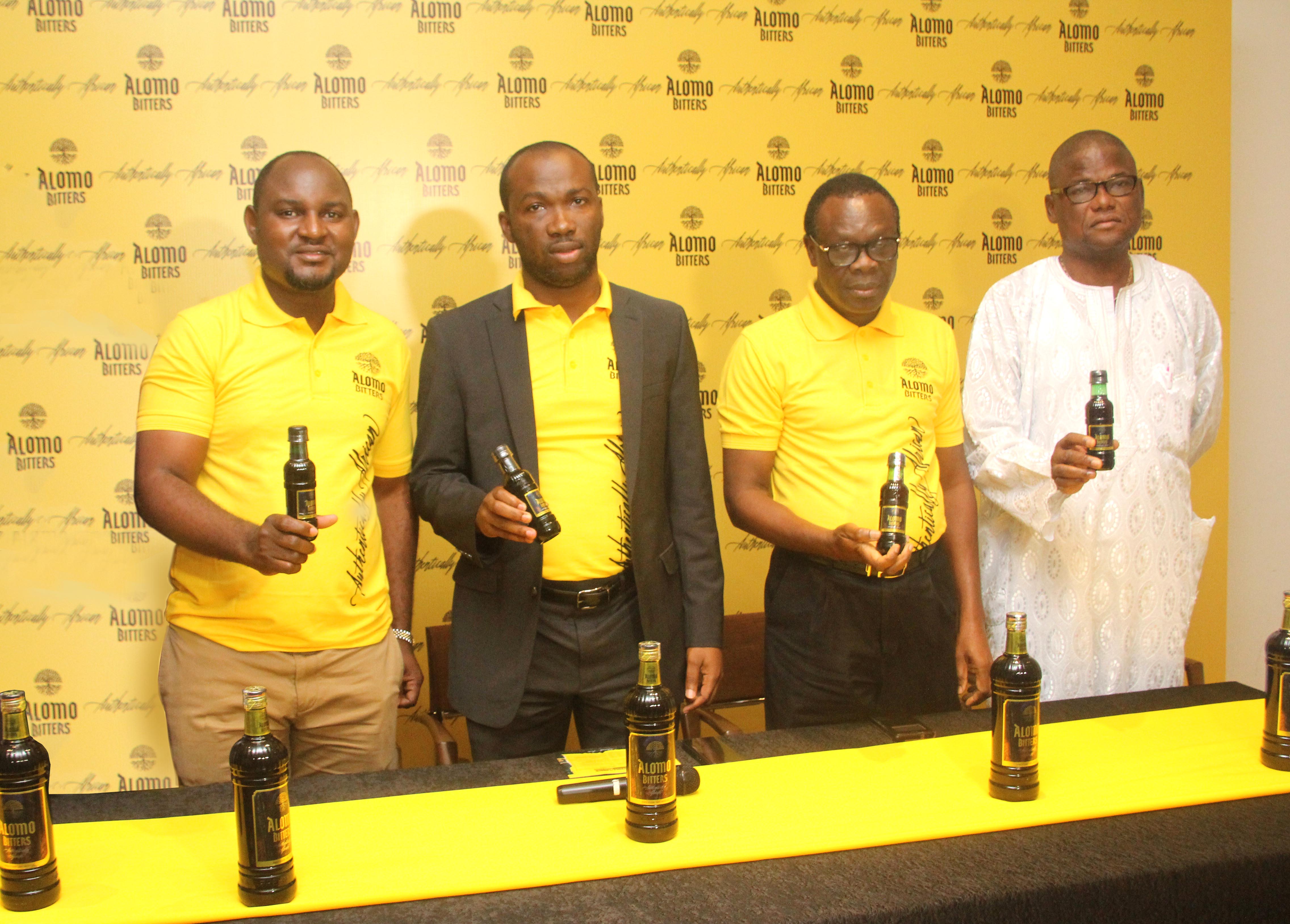 L – R: International Business Director: Kasapreko Company Limited (KCL) Clarence Amenyah, Managing Director, KCL, Richard Adjei, Finance Director, KCL, Emmanuel Teiko and Consular General, Ghana High Commission, His Excellency, Maxwell Awianga during the media launch of the new look Alomo Bitters with tamper proof into the Nigerian Market on Friday.
The Alomo territory is expanding. The drink can be found far and near in countries with official distributors' in Togo, Burkina Faso, Ivory Coast, Benin, Serra Leone, and Liberia in South Africa. It can also be found in African shops in Europe and Americas.
The media launch, which was held at the Nnamdi Azikwe Hall, Renaissance Hotel, G.R.A, Ikeja, Lagos, was attended by the management team of Kasapreko Company Limited from Ghana led by Managing Director of Kasapreko Company Limited Mr. Richard Adjei, International Business Director: Kasapreko Company Limited Clarence Amenyah, representative of Advertising Practitioners Council of Nigeria (APCON), Martin Ajunam, Head of Public Relations Unit, National Agency for Food Drug Administration and Control, Lagos, Mrs. Christy Obiazikor, Consular General and Ghana High Commission, His Excellency, Maxwell Awianga  as well as media men and women.
To Managing Director of Kasapreko Company Limited Mr. Richard Adjei, Alomo Bitters rebranded entered Nigerian market since 2011 and has since risen to become the leading bitters drink in Nigeria and Ghana.
According to him, though rebranded, Alomo Bitters's quality still remain the same which its consumers known of it since inception of the company 30 years ago.
"Even though the introduction of the unique hologram will help consumers to differentiate the Alomo brands from others, its security intent is to protect consumers ahead of unforeseen counterfeits is very proactive. This is a demonstration that shows the company cares for its consumers and their safety," Adjei said.