KIA Car Prizes Excite Winners Of 10km Race At Access Bank Lagos City Marathon
Posted on February 14, 2019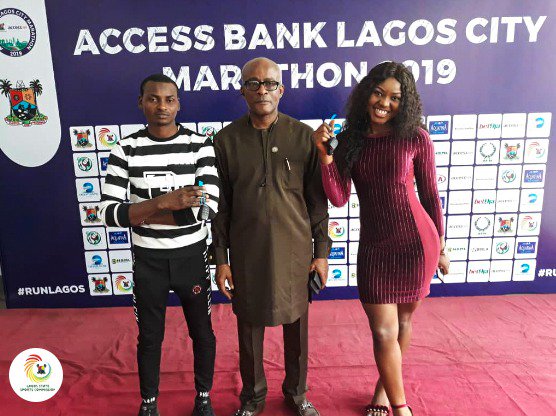 Saheed Olufunmi Abdulateef (left) with Hart Priscilla (right) displaying their KIA car keys, while Chairman of Lagos State Sports Commission, Dr. Kweku  Tandoh looks on.
In fulfilment of their promise to give out as prizes, KIA Cars to winners in the 10km race in the recently held 4th Access Bank Lagos City Marathon, organisers of the event and KIA Motors presented the prizes to the winners in Lagos on Thursday.
The presentation of the KIA cars to the male and female winners was done in the presence of the media.
It was a moment of joy as Saheed Olufunmi Abdulateef, the male winner, received keys to his KIA car, so also Ms Hart Pricillia, an Electrical Engineering final year student of Rivers State University, was radiating in happiness when she too was presented with her KIA car keys.
Abdulateef, a football player with Rising Star of Eti-Osa in Lagos was full of praises for the organisers of the Access Bank Lagos City Marathon, saying it's just like a dream to him.
"I am so happy for winning this KIA car. I must confess that I didn't expect to win this car because I did not expect to be a champion. I thank KIA Motors for its kind gesture. I won the race because I trained for two weeks and I thank God that I am a car owner today," he said.
Ms Hart said: "I thank God for this car. I entered the race with the expectation that I would make an impact, and God had crowned my effort. I am happy today because I was presented with a KIA brand new car. I will come next year to retain my champion."
On the 2nd of February, 2019, foreign participants, Lagosians, Nigerians and tourists from every corner of the world took to the beautiful streets of  Lagos to participate and be a part of history at the Access Bank Lagos City Marathon.