Lagos Welcomes The Scent Of Africa
Posted on November 25, 2016
FUNSHO AROGUNDADE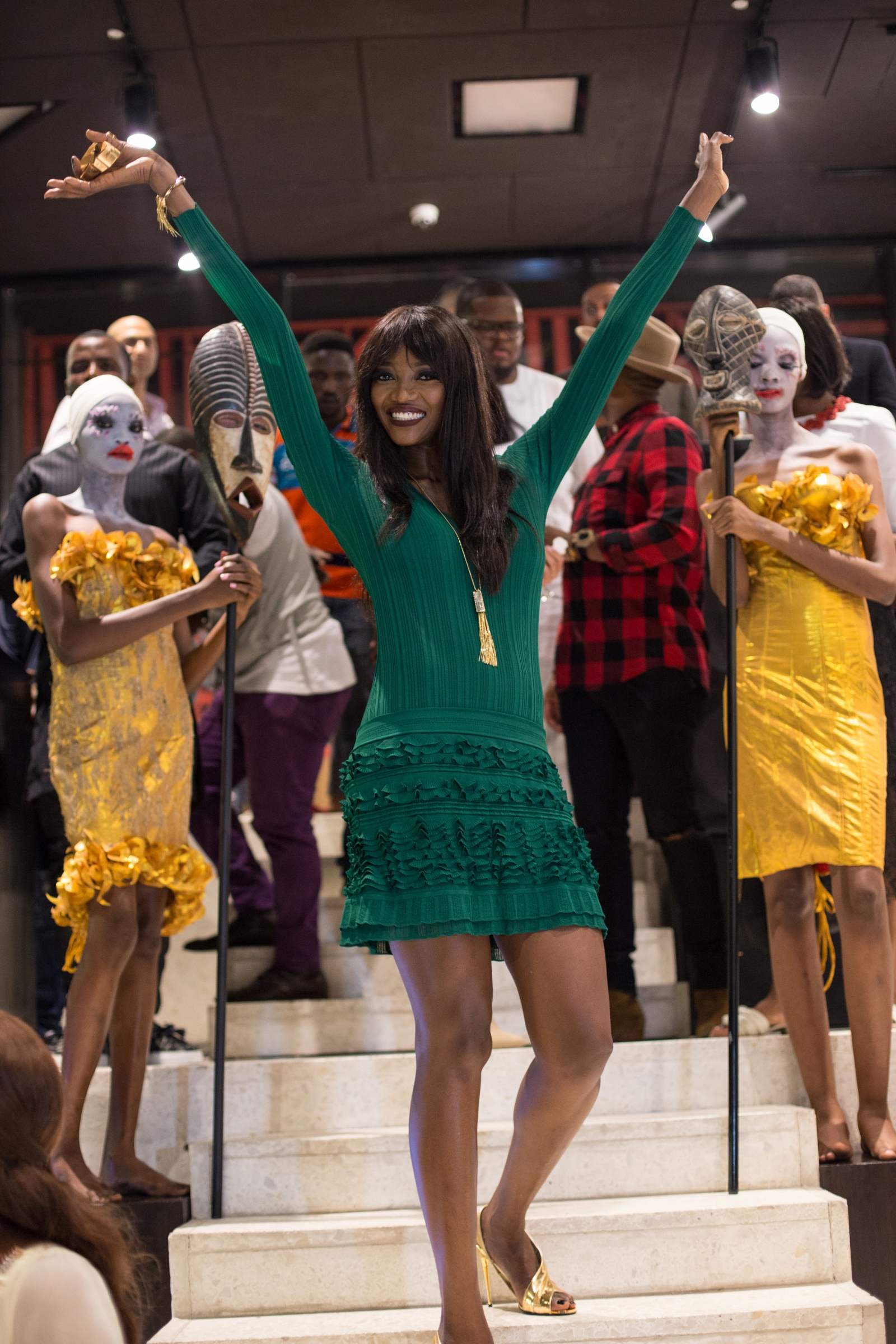 Africa's first luxury perfume, Scent of Africa was launched in Lagos at the upscale NOK by Alara contemporary leisure space.
The exclusive event attracted Lagos celebrities, socialites and influencers, kicked off with a red carpet.
As the evening unfolded, guests were given the opportunity to sample and experience the perfume.  
Solange Boccovi, Brand Manager of Ghandour Cosmetics, described the perfume as a "blend of sophistication and elegance that pays homage to Africa in celebrating its rich identity.  Scent of Africa's identity was built around values of authenticity, the Ghandour brothers roamed Africa to extract the best essences used to build its delicate fragrance notes".
The Luxury fragrances (for man and woman) were unveiled by celebrity brand ambassadors, Oluchi Orlandi (International super model) and Marcel Desailly (World Cup Champion and French-Ghanaian international footballer).
"Scent of Africa incarnates prestige. It carries a strong dose of elegance. I see it as more than just a fragrance, it is a trend and experience," said Oluchi, supermodel and Host/Producer of Africa's Next Top Model.
The Scent of Africa perfume bottle is the ideal packaging for the continent's first Luxury fragrance; an ornate map of Africa in gold for women and silver for men. This bold depiction of the continent is the perfect house to distill these fragrances.
Scent of Africa for woman and for man comes in both 30ml and 90ml options.
The Gold colour Scent of Africa for Woman, illustrates the allure of today's African woman. The scent is a thrilling aroma of crushed geranium flower petals, jasmine, ylang ylang and heliotrope combined with hints of Malagasy Vanilla and musk. 
"Scent of Africa is an experience not just women but for men also, it is luxury in bottle.the smell instantly demands attention," said Desaily.
The event commenced with theatrical performances and musical presentations used to incorporate the diverse representation of different African nations.
The Oyo drummers opened the ceremony while the ballet performance showcased the beauty and strength of Africa.
DJ Caise thrilled guests to African inspired deep house, jazz and soulful house tunes as they were treated to exotic Absolut Eylx cocktails.
Guests at the event gladly feasted their eyes to artworks and African elite pieces among which were high-end couture tastefully designed by the remarkable Patience Torlowei and each guest went home with bottles of the perfume. 
Scent of Africa is set to hit the shelves of luxury fragrance stores and boutiques nationwide before the end of 2016.