How Landlord's Son, Married Lover Died Inside Car After Marathon Sex
Posted on October 30, 2017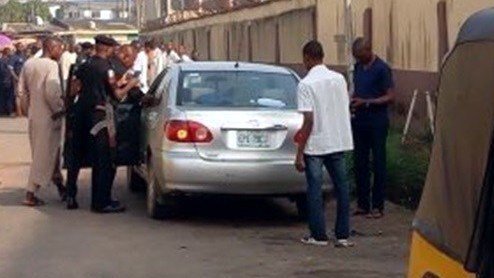 A landlord's son and his married lover were found dead in a Toyota Corolla in Ogba, Lagos on Sunday.
The lifeless bodies of the two deceased lovers were discovered on Abisogun Leigh Street, behind the Nigerian Institute of Journalism, Ogba Lagos.
The man was found on the driver's side, half-naked, with his penis slumped, while the woman, a tenant in the man's parents' house, who wore a gown, reclined in the passenger seat next to him.
It was gathered that a tricycle 'Keke Marwa' rider who noticed that the headlamps of the car were on at around 8.30 am drew the attention of one Adewale Sofuyi, an executive member of the National Union of Road Transport Workers (NURTW) to the car.
The Union executive member and the rider went to the scene, peeped into the car and observed that the lovers were motionless and they were said to have immediately alerted the police at the nearby headquarters of the Area G Police Command in Ogba.
The car was subsequently moved to the premises of the Area Command while the corpses of the lovebirds were deposited in a morgue.
Narrating his eyewitness account, Sofuyi said: "A tricycle rider approached me around 9 am. He said the headlamps of a Toyota Corolla by the roadside were on and that he had knocked at the car door without getting a response from the occupants."
"I followed him to the scene and confirmed what he said. The man wore a shirt only; he did not cover his private parts. The woman was in a gown. They were both in the front seats. The seat where the woman sat had been adjusted so that she reclined on it. From all indications, they had had sex with each other before their deaths.
"I went to report at the area command and some policemen followed me. When they opened the car, a bottle of an alcoholic brand – Best – was found there. Their phones were also recovered. They moved them to the back seats and drove to the station. The police contacted their families through their phones."
Sofuyi stated that when families and relatives of the deceased arrived at the command, they were shocked to know they were in an amorous relationship.
"According to the families, both of them lived in the same building in Ogba. The woman's husband said he had suspected that she had extra-marital affairs, but decided not to confront her.
"The man's wife is a nursing mother. She cried profusely. I learnt that the man's father is the landlord of the house where they both lived."
Lagos State Police Public Relations Officer, ASP Olarinde Famous-Cole, confirmed the deaths.
He, however, said he had yet to be fully briefed on the matter.
He said, "They (the lovers) were taken to a hospital, where they were confirmed dead. Autopsies will be conducted on them, while investigation is ongoing to ascertain the cause of death. I don't have their names for now."