Man Watches Video While Stealing Perfume For Lover At Supermarket
Posted on February 12, 2018
CYRIACUS IZUEKWE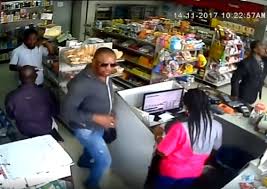 A 32-year old Sunday Obifegah was stunned after he was shown recording of a CCTV while stealing a body perfume at a popular supermarket in order to satisfy his lover in Lagos.
The incident happened at Addide Supermarket located on Ladipo street in Mushin Lagos.
P.M.EXPRESS scooped that Obifegah went to the store and pretended to be a customer, moving round the store to pick the items he needed.
However, the suspect had another motive which was to steal in order to satisfy his lover.
He reportedly stole Pure black perfume and two bottles of Bailey wine and hid them inside the clothes he wore to the store.
He landed into trouble after he attempted to leave the place without buying any items and was accosted by the security men who took him to the office where the CCTV monitor was located.
The security men played the video and asked him to watched it. To his surprised, he saw himself hiding those items inside his cloth.
He was shocked and confessed that he did it and explained that he wanted to buy the perfume for his lover and used the wines to stay together but had no money on him. He pleaded for forgiveness and surrendered the items to the security.
However, the management did not take his plead, as he was made an example to other people who might try such act in the supermarket.
He was handed over to the police for prosecution and was charged before an Ogba Magistrates Court for stealing under the Criminal code.
He pleaded not guilty.
The presiding Magistrate, Mr O.A. Ogbe granted him bail and ordered that he should be remanded in the prison pending when he will perfect his bail condition.