Meet 5 Nigerians Shortlisted For Billionaire Masiyiwa's $100 000 #GOGettaz Prize
Posted on November 22, 2017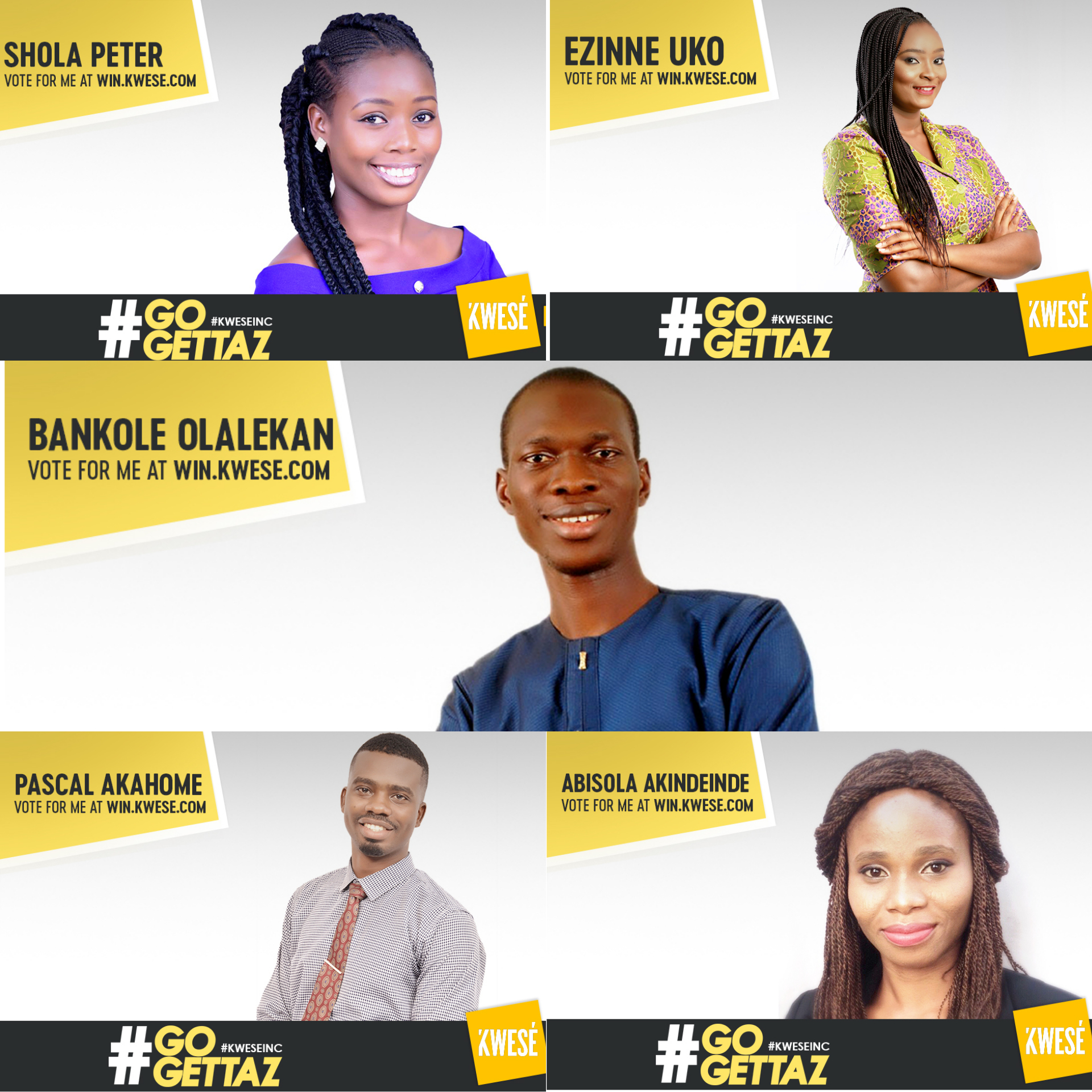 Five Nigerians are among the 12 entrepreneurs shortlisted for a chance to win a $100,000 and a two-week mentorship programme with Strive Masiyiwa in the Kwesé Inc competition called #GoGettaz.
Kwesé Inc is a channel on Kwesé TV with informative content that equips young entrepreneurs with skills to secure business funding.
The shortlists from Nigeria are; Ezinne Uko, Pascal Akahome, Olalekan Bankole Emmanuel, Shola Peter and Abisola Akindeinde.
Mr Masiyiwa, renowned businessman, entrepreneur, philanthropist and Chairman of Econet Group, owners of Kwesé TV, kicked off the #GoGettaz competition on win.kwese.com on Friday 18 August.
The competition offers investment of $100 000 towards a lucky entrepreneur's venture – both for profit or non-profit – and the trip of a lifetime to spend two weeks with the Masiyiwa as "Kwesé Entrepreneur Fellows" at the Kwesé offices in South Africa.
Two deserving entrepreneurs – one male and one female – from anywhere in the world stand a chance to win these amazing prizes.
Contestants did not need to run an already-registered business or non-profit to qualify – they only needed to have an ongoing venture, for which they have clear intentions to formally register should they win the grand prize.
They could even be working part-time on their venture!
From 1 September, a new quiz was uploaded each Friday at 12pm (CAT) for four weeks.
The last quiz closed on Friday, 22 September.
All the questions in the quizzes were answered by visiting Kwesé's websites (kwese.com, kwese.espn.com, kwesefied.com), downloading the Kwesé App, or reading Masiyiwa's Facebook posts, and 12 contestants with the highest overall scores for all four quizzes were entered selected for stage two, a public voting on win.kwese.com
Other shortlists for the #GoGettaz competition are – Kenya's Peter Wachira, Zimbabwe's Farai Nechikwira and Blessing Machiya, Ghana's Ivy Barley, Veridique Musambaghani Kakule from the Democratic Republic of Congo, Uwitonze Sarah from Rwanda and South Africa's Dumisani Mahlangu.
For the five Nigerians, their profiles read:
Ezinne Uko created the iMonitorapp  a dynamic tech solution that uses a mobile device to provide an easy inventory, sales, business performance analysis, customer and business management solution.
Pascal Akahome, founder and director, ART Improved Access Network – a not-for-profit organisation works with HIV patients to increase adherence to antiretroviral therapy and reduce the loss of lives.
Shola Peter developed Glucoman, an innovative glucose-monitoring device for diabetics' which provides minute-by-minute life-saving data, solving the problem of painful traditional monitoring methods.
Olalekan Bankole Emmanuel says he was inspired to create agromerchant.com an e-commerce platform where customers can conveniently purchase fresh, healthy farm produce because like many Africans, he grew up with limited access to nutritious food.
Abisola Akindeinde is providing an e-commerce platform, Zeldot.com where talented artists and crafts' persons can buy art and craft supplies, advertise and sell their work without the hassle of the markets.
Voting closes at the end of the month on win.kwese.com