Nigeria Prison Workers Pension Funds Disappear
Posted on December 2, 2017
CYRIACUS IZUEKWE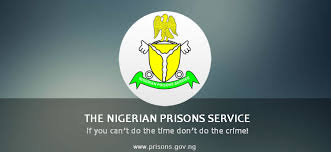 There are strong indications that the Nigerian Prison workers may likely go on mass protest if unchecked over the alleged disappearance and diversion of the deducted pension funds from workers salary without any trace.
P.M.EXPRESS gathered that for the past six months, certain amount out of the workers salaries were deducted as pension fund but the workers alleged that the money disappeared as it was not  remitted into the cooperative account.
Some of the workers who spoke to P.M.EXPRESS on condition of anonymity revealed that they got to know about the alleged scam when some of them went to obtain loan from the cooperative and the management declined. They alleged that it was then that the cooperative explained to the workers that though deductions were made from their salaries, they were not remitted to the cooperative for those months and so they stopped giving soft loans to workers.
Thus, some of their obligations which they usually solved by obtaining soft loans from the cooperative could not be met.
"They collected our money and diverted them to unknown locations which has caused serious difficulties in our different families because we cannot get soft loans any longer" one of them said.
It was also gathered that the amount in question runs into hundreds of millions of Naira considering the number of prison workers across the country.
Some of the senior officers who were aware of the scam declined to speak to our correspondent but merely confirmed the incident.
The workers do not know yet who could have been responsible for the scam but they said the accounts department will explain better how they deducted from their salaries and did not remit the money to the cooperative.
Some said it could be as a result of the single account introduced by the present administration that may be delaying the remittance. However, others said the remittance was going on until it stopped suddenly under the present administration.
When our correspondent contacted the Deputy Controller of Prisons at Kirikiri , DCP Oluwaniyi Emmanuel for comments his phones rang but he did not pick the call. Even the text message sent to him for comments was not replied.
Recently, a Lagos lawyer, Barrister Gabriel Giwa-Amu had alerted that serious corruption was going on within the Nigerian Prisons but yet the EFCC has not deemed it fit to look in that direction to bringing the culprits to book.


Categorised as : Metro
No Comments »