Why Some States Chapters Of OPC Are At War With Gani Adams
Posted on December 27, 2016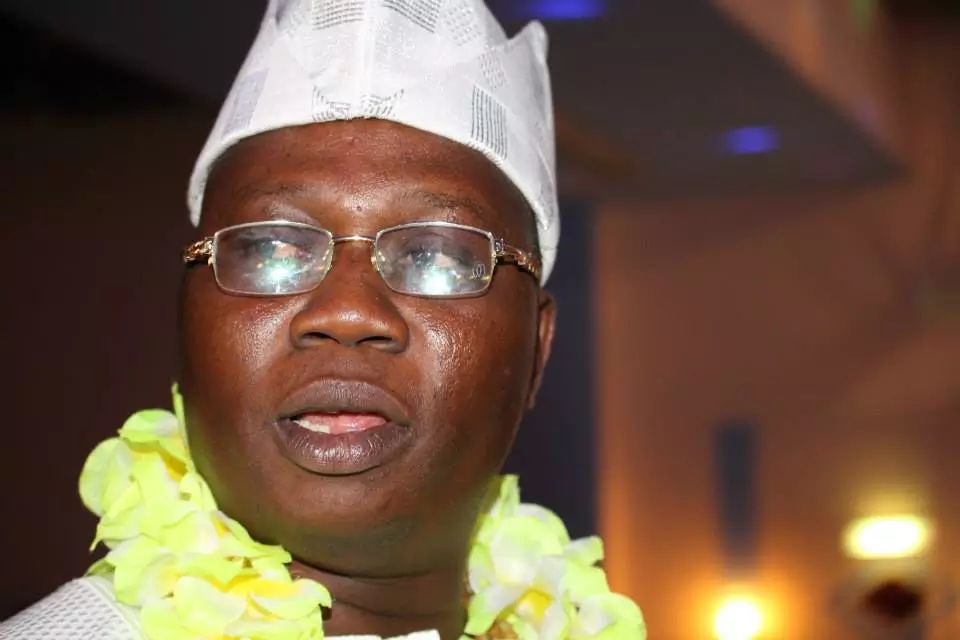 Maruff Olanrewaju, the coordinator of the Kwara State chapter of the Oodua People's Congress (OPC), in this interview, speaks on his experience with the Yoruba liberation group, the group leaders' main grouse with the Gani Adams leadership, the way forward for Nigeria and the only peace route for OPC, and more
You are said to be a freedom fighter, how did it begin with you?
I'm a man who loves his tribe, the Yoruba, and I can't stand my people being oppressed. When I was in school during the June 12 1993 crisis, I admired freedom fighters like the late Chief Gani Fawehinmi, Dr. Beko Ransome Kuti. Then strong human rights activists like Barrister Femi Falana, Olisa Agbakoba, and many others fighting then for the realization of Chief M.K.O. Abiola's electoral mandate. Since then I had it in mind that I would become one of those fighting to liberate Yoruba from the bondage of the Hausa/Fulani oligarchy. That was about the time the Oodua People's Congress (OPC) was born. Before then, NADECO was the leading organisation calling for justice on the June 12 struggle. OPC was formed in 1994 under an organization called JACON but hardly did people know OPC then until between 1997 and 1998 when it joined the voices that were calling for the release of Chief Abiola, the restructuring of Nigeria, creation of state police, resources control, among other matters of national importance. It was then I joined OPC in which up till date I'm an important factor.
As an important factor in OPC just as you have said, please, share your relationship with one of the leaders of the group, Gani Adams?
My late father used to tell  me that whenever you find yourself within a group, make sure you give respect to whom it's due, meaning respect who the leaders are and give all your support to them, obey instructions and never allow yourself to be used as a tool for destruction, do not cheat and never accept to be cheated. In line with this wisdom, I followed Gani Adams leadership in OPC to the letter. He can attest to this claim. Whatever he did that was legal, I gave my total support, and I love him blindly to the extent that other members of the group took me as enemy. This is because I never supported any plot against Gani. For example, in 2007, there was a serious crisis in the leadership of OPC when Gani Adams was alleged of embezzling the organization's money and some of his security aides demanded for N10 million if the crisis must be settled. During that crisis, I stood solidly behind Gani because I believed that the crisis was meant to humiliate him and question the integrity of his leadership.
So, at what point did crisis come between you and Gani?
You will recall that I said earlier that OPC was an organization calling for restructuring, resource control and state autonomy. If I may ask, do we have autonomy in OPC? The answer is no. Let me use this opportunity to tell the world that Gani Adams leadership is purely dictatorial as I later realized. Gani believes in dictatorship, he doesn't welcome ideas from other members of OPC, especially if such ideas contradict his own agenda. During the 2015 general election, there was the speculation that Gani Adams collected N9 billion from the Goodluck Jonathan government to destabilize Yoruba land. I personally addressed the press on the issue and debunked the rumour. But later, we got to know that Gani truly collected money from Jonathan, which we were told was meant to empower all members of OPC.
How did you find out he got the money?
He confirmed it later. When he got the money, he asked all our members to open a dedicated account in the bank that he would send what he called employment money to every member between N200,000 and N250,000. But that was the last we heard on the issue of the money and employment. Before the 2015 election, Gani was living at Abule Ado but immediately after the election, he bought a mansion in Omole Phase 2.  He also bought brand new jeeps for himself, his wife, and his only son respectively. He didn't stop there; he went to London to launch a radio channel and news magazine. He did all these without giving any member of OPC a dime. That was the point I and like-minded people took it up with him. We told him that he must step down as OPC leader since he has betrayed the confidence we had in him.
The OPC leadership, does it have a term limit backed by its constitution?
There is no term limit or any leader in OPC and the constitution is weak.  The constitution was written between 1999 and 2000 when Gani was already leading the organization but he refused to sign it because he saw some aspects in that constitution that he felt was not favorable to his leadership.  He later wrote a new constitution but he was still scared of presenting it to the OPC national coordinating council because he knows that there is nowhere under the sky where such an autocratic law is operating.
What is the connection between OPC and Oodua Progressives Union, OPU?
The connection between the two is that the both are Yoruba organizations. But the difference is that when Gani Adams noticed that he might not survive with his dictatorial leadership style in OPC, he used OPC money to establish OPU outside Nigeria with the intention to destroy OPC so that if he has any problem with OPC, OPU will come to his rescue. We will continue to say it, OPC is not a political organization and it is not affiliated to any political party. When we say our aim is to protect the interest of Yoruba but we are supporting political parties, it means we have already deviated from our oath and objectives because Yoruba cut across all political party.
So far, what can you point at as OPC's achievements?
Sincerely speaking, OPC has achieved a lot especially in cultural promotion. We have been able to showcase our cultural values to the outside world. Even our home governments now realize that they can generate a lot of revenues in tourism if they can invest more in tourism. We have many tourism attractions here in Nigeria especially in Yorubaland. We have the Owu Force in Oke Oyan/Owa Kajola in Ifelodun local government area of Kwara State, we have the Oya groove in Ira, Oyun local government of Kwara State, and we have hot and cold water flowing together in Ikogosi in Ekiti State, and a lot more. Moreover, we still have a long way to go. Our government needs to come out in full support of cultural groups like OPC which is doing a lot in cultural promotions so that our rich culture which is our only pride will not become history. OPC originally was born as a liberation force. It came into being basically to promote and defend the Yoruba nation when the Ibrahim Babangida military junta annulled the June 12, 1993 election. We swore on oath never to allow the interest of any tribe to override the Yoruba's. The first major success happened when the struggle was hot between 1998 and 1999. The Nigerian government headed then by General Abdulsalami Abubakar, a northerner, was forced to endorse the nomination of two Yoruba men for the position of number one citizen in Nigeria, Chief Olusegun Obasanjo and Chief Olu Falae. But we still have a long way to go even now in term of emancipation. We are still calling for the creation of state police, resource control, let those whose lands produce determine how they live their lives, let's have state or regional autonomy, let's have true federalism, Nigeria needs to be restructured if we must continue to live together in peace. If we are to look at it critically, you will agree with me that nothing is working in Nigeria anymore. So, the only solution to liberating this country is restructuring. The OPC particularly can't stop fighting for liberation when we are not yet at the destination.
What is your assessment of the Muhammadu Buhari-led APC government?
Considering his integrity, I would say that President Muhammad Buhari means well for Nigeria. But there are two problems I have identified with his government. One, he came to power at the wrong time. Wrong time because things have been so bastardized it would take even the holiest of men years to fix. Two, Buhari is surrounded by corrupt politicians, and he was supported to become president by this same set of corrupt politicians, which I see as another reason he may find it even more difficult to move Nigeria forward.
As a leader in your own right, how accessible are your followers to you?
Every member of my organization can tell you about me. They are the mirror through which I see myself. I'm a man of the people and my people have easy access to me anytime.
Do you have any political ambition yet?
No.
Tell us about the empowerment scheme in your group.
Empowering our members is one agenda that I take serious. We do it regularly, though with the little resources available to us. I'm not ready to disappoint my people because one leader took away all the money meant for everyone.
Tell us about yourself and what you are you doing at the moment.
My name is Salam Maruff Olarewaju.  I was born some years ago in Ondo State but I hail from Oyan, Ifelodun local government area of Kwara State. My father is Chief Salam Atoranse of Ayekale compound, Oke. I had my primary education in Ondo State and started the secondary education there which I later completed at Shao Grammar School in Kwara State. I also studied Public Administration at Kwara State Polytechnic in Ilorin where I got OND and HND. I'm currently studying Finance Management at the Institute of Finance in the UK. I also attended Arabic school both in Ilorin and Lagos State before moving to Abeokuta, Ogun State where I got Dhanawy certificate in Arabic. Later, I studied Arabic and Islamic at Uthman Danfodio University, Sokoto, where I graduated as an Islamic scholar. I then came back to practice in Ilorin as an Islamic teacher which I did for some years before quitting to face full time business.
Finally, so you foresee reconciliation with the Gani Adams group?
No. This issue is not about the Kwara OPC alone. It is about OPC in seven states, Ondo, Ogun, Oyo, Osun, Delta, Bayelsa and Abuja, and OPC in 12 local government areas in Lagos State. So, there won't be any reconciliation until Gani Adams quit and allow OPC to freely choose its leaders.