Ajomale, Odunmbaku Back Ambode Wrestle Force
Posted on November 14, 2016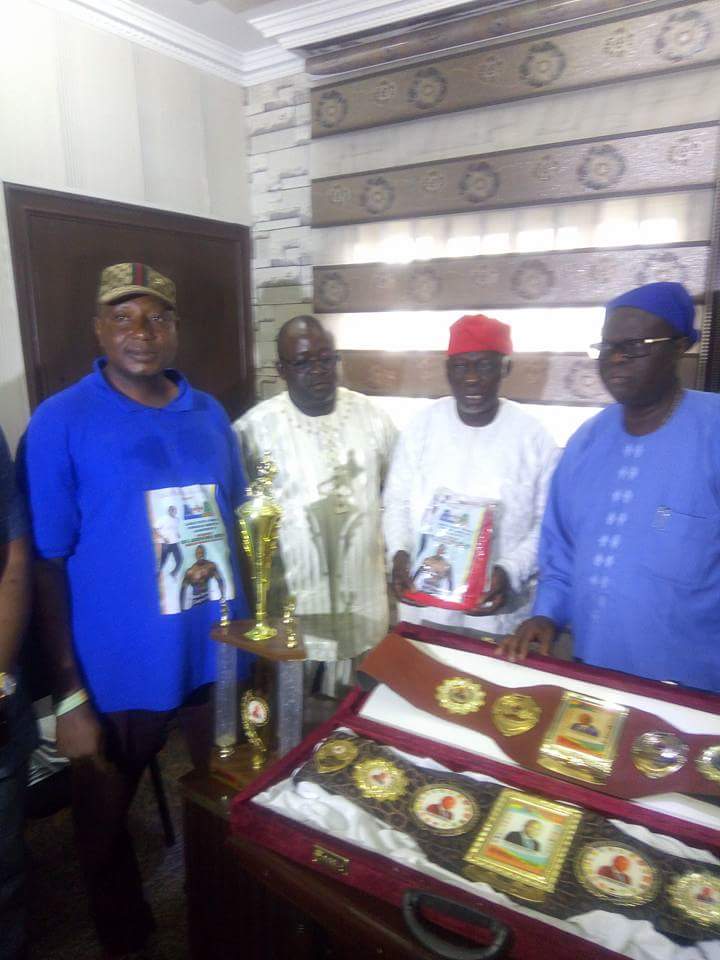 With few weeks to the Intercontinental Wrestle Force Championship scheduled for Lagos State, the competition has continued to receive the support of prominent personalities in the society.
The latest support is coming from the Lagos State Chairman of All Progressives Congress (APC), Chief Henry Ajomale and his deputy, Cardinal James Omolaja Odunmbaku a.k.a. Baba Eto.
The Local Organising Committee (LOC) of the international wrestling competition being packaged to celebrate the achievements of Governor Akinwunmi Ambode in Lagos State paid courtesy visits to the two chieftains of Lagos APC at the party secretariat on Acme Road, Ikeja recently to solicit their support for the tournament scheduled to be staged from 4-18 December, 2016.
At the office of Chief Ajomale, the LOC Chairman, Otunba Dengel Anifowoshe said the tournament was borne out of the need to popularise wrestling in Lagos as it was in the past when the combat sport was the toast of the youth.
"It is so sad that today, we could only watch wrestling bouts on television where the whites entertain us. We also want to organise this event to showcase the achievements of Governor Ambode since he assumed office. These have been so wonderful because Ambode has achieved a lot in a very short period of time.
"The  Governor himself has approved the competition and our plan is to stage the tournament across five divisions of Lagos. It will be a two-week of wrestling fiesta where we will have more than 20 renowned professional wrestlers from Europe, America, Asia and Australia. Our African wrestlers as well as many Nigerian wrestlers will be on the cards during the tournament, " said Otunba Otunba Dengel, who is also the Chairman of Community Development Association (CDAs) in all the local governments in Lagos State.
In his remarks, Chief Ajomale promised his support both morally and financially. He added that he loved wrestling since his days as a young man.
He noted that the Intercontinental Wrestle Force Championship will bring a lot of things to Lagos and APC as a party and called on the good people of Lagos State to rally round the organisers to stage a befitting tournament.
At Odunmbaku's office, while calling for both spiritual and financial support from Baba Eto, Otunba  Dengel Anifowoshe eulogised the role the clergyman turned seasoned politician has been playing to ensure that the progressive government last longer in Lagos.
Cardinal Odunmbaku in his own remarks prayed for the LOC that God will strengthen them as they prepare to celebrate Governor Ambode with an international wrestling competition.
He lauded the vision behind the competition and said that staging a tournament of international repute will further showcase Lagos as one of the emerging mega cities of the world.