Alleged Corruption: National Amputee Footballers Want Federation President, Suleiman And Asaba Sacked 
Posted on May 14, 2022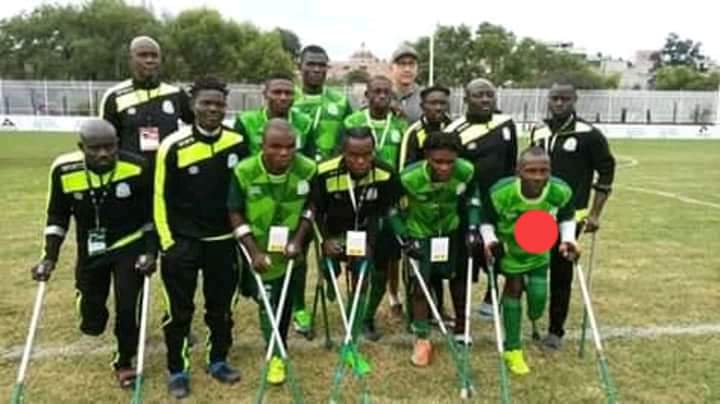 IKPO IGBINOBA
They have overcome the misfortune hurled at them by fate.
Through no fault of theirs, these young men and women became amputees.
But rather than succumb to their grim circumstances and become liabilities to their families, friends and society, these young men  confronted their situation with grit and determination.
And by dint of hard work, they triumphed over the odds.
Even with their physical limitations they took to the game of football.
When Nigeria finally joined the rest of the world to embrace amputee football in 2002, they were on hand to answer the national call.
Yet, in spite of their enormous contributions over the years, these patriots have been massively exploited by those supposed to be their leaders.
Since 2007, the National Amputee footballers, have been subjected to different forms of humiliation, deprived of their entitlements, and routinely cheated out of their benefits.
For a long time, they bore their misery with fortitude but now, their pent-up frustration and anger are boiling over.
They are now on the war-path with those who they accuse of shortchanging them.
In a strongly-worded petition signed by Oyelekan Sarafadeen and Ugochukwu Obieze, the aggrieved footballers accused the President of the Nigeria Amputee Football Federation, Mr. Suleiman Isah, and the ActingTechnical Director of the federation, Mr. Pius Asaba of abuse of office, misappropriation of federation funds among other infractions.
The petition loaded with weighty allegations chronicled the "sins" of Isah, Asaba and the former Technical Director of the federation, Mr. Are Feyisetan from 2007 till 2021.
Some of the allegations include:
The sale of their passports which had Turkish visas in 2007.
The misappropriation of the N28 million raised for the 2018 Amputee Football World Cup hosted by Mexico.
3.The denial of their entitlements while in camp for two editions of the Africa Cup of Nations hosted by Angola in 2019 and Tanzania in 2021.
4.The refusal of the federation to give them Covid 19 palliatives which the Sports Ministry released in 2020.
The petitioners appealed to the Sports Minister, Mr. Sunday Dare to sack the President, Mr Suleiman and the Acting Technical Director, Mr. Asaba.
Beyond the sacking of the two officials, they also prayed the Minister to probe allegations contained in their petition for further action to be taken.
Meanwhile, stakeholders are expecting the Sports Ministry to release the guidelines for elections into the Nigeria Amputee Football Federation and other Para sports federations.