Asisat Oshoala Grateful To Emzor's Boss, Dr. Okoli Over Support For Football4girls Tourney
Posted on November 30, 2020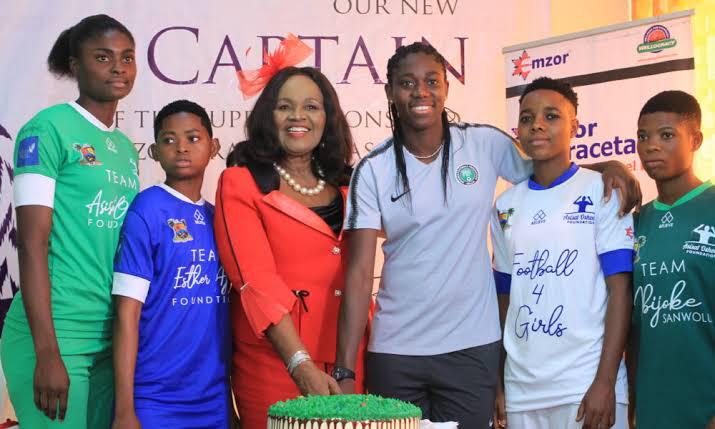 Emzor Pharmaceutical is sponsoring the 2020 edition of the Asisat Oshoala Foundation Football4girls, as it has been doing over the years, through the MD/CEO, Dr. Stella Okoli.

 
Dr. Stella Okoli (OON), the Founder and Chief Executive Officer of Emzor Pharmaceutical Industries Limited, has splashed millions of Naira on the Asisat Oshoala Foundation December project for educational scholarships, jerseys, and medicals.
 
As the founder of the Chike Okoli Foundation, Dr. Okoli believes in entrepreneurship for young people which is in tandem with the philosophy and mandate of Asisat Oshoala Foundation to help young girls achieve their dreams, and in the past five years, Emzor Pharmaceutical has continuously supported and sponsored the Asisat Oshoala Foundation with money and with scholarships.
 
Speaking about Emzor Pharmaceutical and the CEO Dr. Stella Okoli's support, Asisat Oshoala said: "I want to say a special thank you to the management staff of Emzor for sponsoring my foundation and helping every African girl to achieve their dreams."
 
She continued: "Our relationship dated back to like five years ago.
"The CEO and MD, Dr. Stella Okoli has provided everything for my foundation from finance to sports equipment and sponsorship of the winners to Spain for education and sports program, giving them scholarships, I really don't know how to thank her. May the good God bless her and her daughter, as well as all the staff in Emzor."
 
The 2020 edition of the Asisat Oshoala football4girls will be an 8-aside soccer tourney, and it will get underway from 1-3 December with the participating teams battling for the grand prize of one thousand dollars, $1000.