Boy, 18, Arrested While Negotiating For S*x Romp With Lady, 45
Posted on September 17, 2021
CYRIACUS IZUEKWE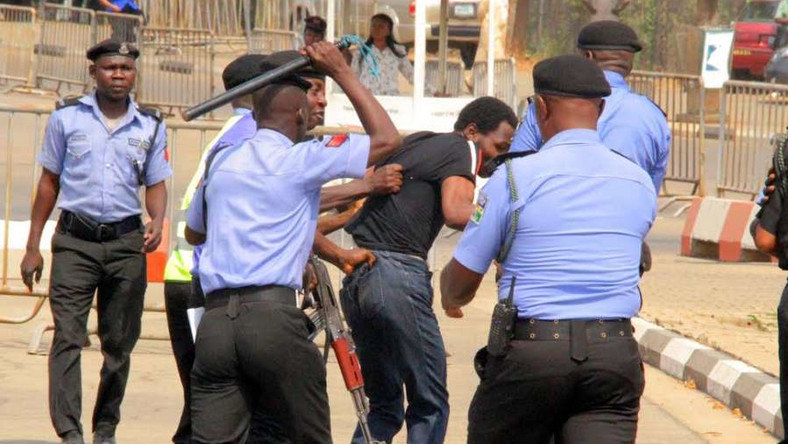 Police operatives from the Area M Command, Idimu, have arrested an 18-year old boy, Tunde Shaibu, while he was negotiating for sex romp with a 45-year old lady, Gloria Favour in Lagos.
The duo were among four other ladies including four men arrested for allegedly engaging in immoral acts by using their private parts to make money in a popular bar, known as Wisdom Model Bar, located at Igando area of Lagos State.
The female suspects included Gloria Favour, 24, Blessing Peter, 24, Felicia Asoquo, 27 and Esther Effion, 28.
While the male suspects were Kuitche Dada, 31, Ade Awotunde, 31, David Temfun, 22 and Great Onyemachi, 23, who were arrested while negotiating for romp in the evening.
It was not certain who among the suspects were paying for the romp, as according to Police sources, both men and women usually visit the bar for sex negotiations.
However, they were unlucky as Police operatives raided the place and arrested them.Thereafter, they were charged before the Ogba Magistrates Court for soliciting for sex, which is considered as immoral act.
They pleaded not guilty.
The persecutor, Inspector Benedict Aigbokhan, asked the Court to give a short adjournment to enable the Police to come and testify in order to prove that they actually committed the alleged offence.
The Presiding Magistrate, Mr. E.O. Ogunkanmi, granted them bail in the sum of N100,000 with two sureties in like sum.
They were remanded in custody at Kirikiri town pending when they will perfect their bail conditions while the matter was adjourned till 6th October, 2021, for mention.