BRT Bus Driver, 43, Docked For Crushing Lady, 26, To Death On Highway
Posted on September 5, 2022
MICHAEL AKINOLA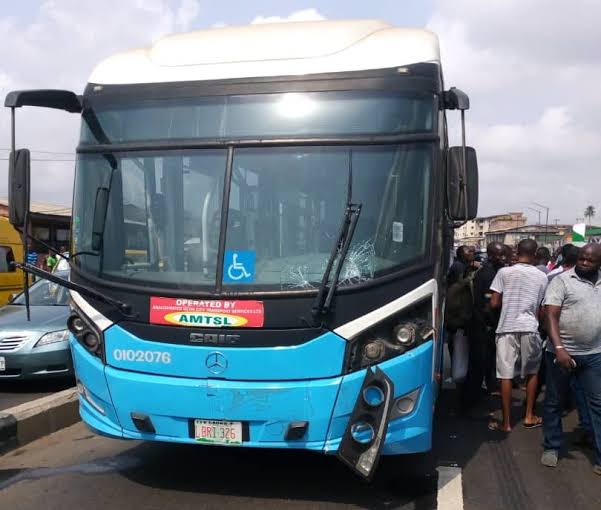 A 43-year old BRT bus driver, Ogbu Ogonaya, has landed in trouble in Lagos State after he was alleged to have driven the bus in a very dangerous manner and crushed a 26-year old lady, Dadi Akakpo, to death. 
P.M.EXPRESS reports that the driver has been arrested for the alleged offence.
The incident happened on 17th June, 2022, at Cement Bus Stop along Ikeja-Oshodi Expressway, Lagos, where the driver reportedly crushed the victim and she died on the spot.
According to Police sources, the suspect, Ogonaya, who resides at Victory Road, Ajasa area of Ipaja, being the driver of a BRT bus with registration number 0101057, did drive in a very dangerous manner and caused the death of the victim thereby committed murder.
Following the incident, he was arrested and detained by the Police for interrogation over the death of the lady. After thorough interrogation and having been found culpable, he was then charged before the Ejigbo Magistrates Court for the alleged offence.
He pleaded not guilty when he was arraigned in Court.
The prosecutor, Inspector Simeon Njue, then asked the Court to refer the matter to the DPP for advice since he pleaded not guilty to determine the jurisdiction of the matter.
The Presiding Magistrate, Mrs. A.K. Dosumu, denied him bail and ordered his remand in the Correctional Centre at Kirikiri town, Lagos, pending when the DPP's report will be ready.
The Court also directed the prosecutor to duplicate the file and send it to DPP for advice while the matter was adjourned till 4th October, 2022, for the report of the DPP to be available,which will determine if the matter will be transferred to the High Court or not over jurisdiction.