Canon Set To Launch Two Of Its Revolutionary Products 
Posted on May 13, 2022

Canon Central and North Africa has announced of its highly awaited debut R-tour expected to commence from May 12th in Morocco, in line with the company's continued commitment to Morocco, a key country representing one of the important economies in the region. The launch event will witness the official kick-off of Canon's much-awaited R-tour in Africa and will have Lorenzo Salami – Multitalented Lifestyle and Fashion Photographer, Saab Abid, Morocco's leading Instagram influencer along with Canon's Sales and Marketing Director (CCNA) – Amine Djouahra.
As a testament to Canon's dedication to on-going research and development in ensuring a continuous stream of new products and solutions to meeting evolving needs, Canon's R-tour will kick-off by introducing two of its ground-breaking products – EOS R3, EOS R5 C and the newly introduced Powershot Zoom to customers and fans in Morocco. The R Tour in Morocco will bring together Pro Specialist Partners, selected professional Photographers, SI-Var Partners, Social media influencers and media, among others to create a truly inspirational platform for its consumers to engage and interact. Post the tour, Canon envisions to continue engaging with end-users through a series of events including Photo walks, Masterclasses, Competitions, and Generation R Community events among others. The tour will also provide Canon fans to test-drive Canon products by physically touching and trying them on the spot.
Closer to Customer
"Morocco is a key market for us, and we are committed to bring innovative digital technologies to the country in a bid to underpin its digital transformation journey. The R-tour is a series of special events that enables us to put our consumers and fans in the driving seat, they get to test and try our products, participate in events, engage with industry professionals and more. We foresee the R-tour as a strong channel for us to get another step closer to our customers in Morocco by driving meaningful conversations across various touchpoints. As an ode to our commitment to the people in Morocco, we are also launching our best of the breed products to enable photographers and filmmakers in bringing their stories to life in the most versatile manner possible. We are thrilled for the R-tour to kick-off in Morocco and directly engage with our valuable customers and fan-base there," said Amine Djouahra, Director of Sales and Marketing, Canon Central and North Africa.
Canon has been represented in Morocco since 2009 through distributors and partners that have successfully built a solid customer base in the country. Through the launch of its new products incorporating cutting-edge and world-class technology, Canon aims to be part of Morocco's digital transformation journey by elevating the imaging technology sector in the country. Canon's relentless pursuits in enhancing the local distribution network in Morocco, supported by partners as well local Canon employees in-country, has been the driving force in successfully implementing the company's closer to customer strategy.
Interact and Engage
To further encourage interaction and engagement amongst consumers and attendees of Canon's R-tour, the company has gone one step ahead and created experiential booths to maximize the learning opportunities. A total of five different booth set-ups will be installed at the event namely Generation R, Postproduction Set-up, Home zone, Photo studio and Outdoor Aerial act performance with each of these focusing on a particular area of interest. The Generation R booth will highlight the entire lineup of the Full frame mirrorless series along with an experiential set up to allow customers to touch and try the product. Canon's Generation R community brings EOS R System users together with other creative photographers and experts to pursue and share their passion while exchanging knowledge. The Generation R booth will embody the spirit of this community taking it a notch higher and making the entire experience more personal with the on-ground presence.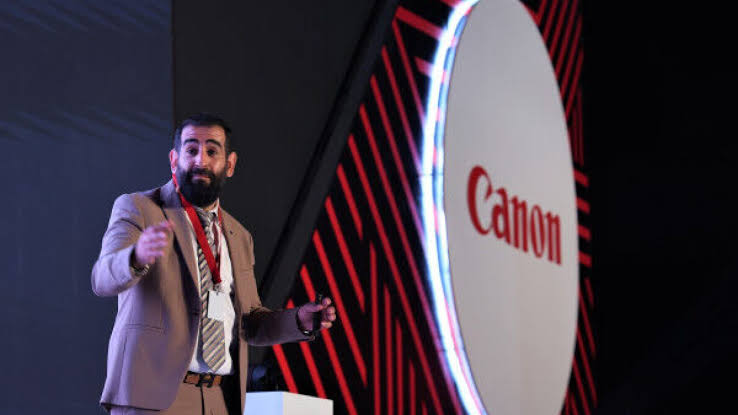 The booth for Postproduction Set up will provide cinematographers as well as enthusiasts with a complete line-up of extraordinary products that can dramatically upscale the quality of the video content. Focusing on the essentials of a modern home, the home booth set up will put on display Canon's stellar line of printers including the famous G-series and megatank printers. The photo studio set-up will take this display of printers a level higher by highlighting the company's Pro 1000 and Pro 300 and Pixma 640 and other input to output solutions. On the other hand, the Outdoor Aerial Act Performance booth will provide invitees with the exclusive experience of getting their hands on Canon's EOS R3 to test and try on the spot.
Additionally, the event will also feature a panel discussion amongst the key speakers i.e., Amine Djouahra, Lorenzo Salami and Saab Abid reflecting thoughts and opinions on the significance of content creation in today's day and age, its contribution to the imaging industry, impact of upcoming content consumption trends on photography and products. The discussion will also touch upon the impact on business as a result of emerging content trends, changes in consumer habits of target audience along with the positive effects of driving higher engagement with consumers through cutting-edge and quality content production. Canon's Sales and Marketing Director will also take this opportunity to detail out company's efforts in Africa to generate awareness, education as well as growth opportunities for both business and consumers through its myriad initiatives such as Miraisha programme, Canon Academy workshops, mentorships and more.
Technology that Transforms
Canon offers a comprehensive range of input-to-output solutions, from world-renowned cameras to innovative printers and multi-function printers in Morocco. However, the R-tour will act as a springboard for the company to introduce EOS R3 and EOS R5 C in a manner where people can directly pilot the products on-site. The EOS R3 offers all the familiarity and speed of Canon's renowned EOS-1 series, with the innovation and versatility of the pioneering EOS R System. With a brand new, innovative 24.1megapixel sensor, the EOS R3 gives an optimal balance of performance, resolution and speed to offer news and sports photographers a camera to outperform and outpace the competition. Likewise, The EOS R5 C is a powerful, hybrid cinema camera which combines the professional filmmaking features of the Cinema EOS range with the EOS R System's photo capabilities. A high-resolution, full frame CMOS sensor, DIGIC X processor and the RF Mount, are the crucial three elements that enable high fidelity 8K capture, and 45 megapixels still photo capture at burst speeds up to 20 frames per second, all in a single body of the EOS R5 C.
Canon's R-tour in Morocco kicked off yesterday, May 12th, 2022, in Casablanca. The company's next R-tour is scheduled to begin in Egypt on May 23rd, followed by Kenya on June 2nd, 2022, and many more to come in the upcoming months covering the wide African continent. Stay tuned!