Dalung Hints On Coming Revolution In Nigerian Sports
Posted on October 30, 2016
TAIWO ADELU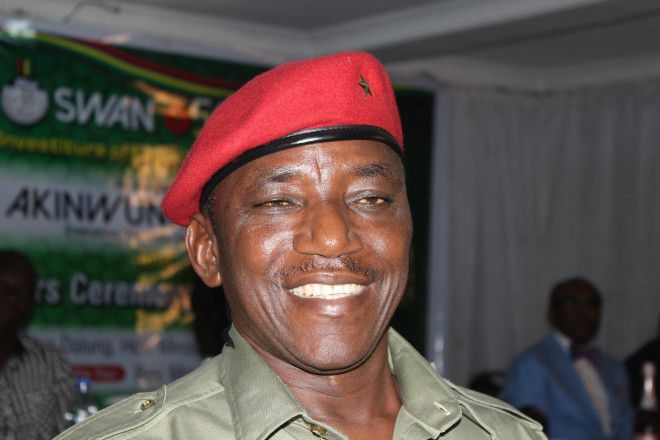 The Ministry of Youth and Sports says it will no longer invest in elite sports development.
Barrister Solomon Dalung, minister of youth and sports, made the statement when Otunba Femmy Carrena CEO/President of Arabella 21st Century, a sports Promo/marketing company made a proposal to invest, alongside some investors in the United Kingdom, about $1.5 billion in the Nigerian Professional Football League.
"They want to bring in about $1.5 billion into Nigerian football but there is a caveat to it. They are not going to tamper with the constitution, statutes or football article. It is the same thing they did in China and Japan," Dalung said.
He added, "The league board will operate with the Nigerian Football Federation and the Ministry will be involved. They want to set up a Football Development Company that will be quoted on the stock exchange and same will apply to all the football clubs in Nigeria."
Carrena also hinted that like any other investor, they'll like to make money.
"The foreign investors want to come to Nigeria and manage our league for the next 20 years. After a meeting with the ministry and other stakeholders, they'll set up the company but their Nigerian counterparts are expected to invest 30 per cent of the $1.5 billion. They're ready to put their own money into the stock exchange but they'll have the controlling share," he stated.
Carrena stated that after this process, there will be a football conference in the country to let the various clubs know what to expect. They will give them subvention, put the various stadia to use but it will not be a government appointed board.
The Arabella 21st Century CEO said that there will be a board that will be appointed by the people who buy into the clubs.
"They will restructure the league, get the television rights but not before a conference which will explain to everyone how it will work. They will be coming with technical experts from the premiership who will be operating in the development company that they will set up which include representatives of the ministry, the LMC and the NFF," he disclosed.
Carrena said that the national teams will also benefit in terms of training and subventions while talks are already in progress with the Confederation of African Football CAF.
In his response, Dalung restated that sports will henceforth be private sector- driven.
"It will now be stake holder- defined. You must put your money in it. The days of when government will make huge budgetary allocations for people who have no single contribution is over. We're only going to invest our budgetary allocation in grassroots sports development. Elite sports should be owned by the private sector. Put your money in it. Manage it and make profit or loss. The era of running sports only on sponsorship without your own contribution is over.
"If you want to come and set up another league, you're welcome. Since we as government are interested in it, we will buy shares and become stakeholders. We have kick-started the machinery to reform sports. We maintain the monopoly of policy regulation. Government is going to invest in the new sports architecture. Government is going to be a stakeholder in each emerging business entity that will own sports in order to create wealth on budding potentials for talent development and employment.
"With the stagnated sports architecture like the one we have now , where the stakeholders are undefined and they cannot even figure out any single interest or investment in sports is no longer acceptable. We are only going to be preoccupied as government in investing in grassroots sports development and policies."
Dalung however charged Carrena to go and compete with the current league.
"If you want to run a league, run the league and if you want to do 419, EFCC is there. We are now more interested in institutional sports and the development of young people. Elite sports should be able to produce the money that will sustain itself. So whatever you want to do, we will be involved wherever we are concerned," the Minister said.