Dangote Refinery To Commence Operations In October
Posted on September 19, 2023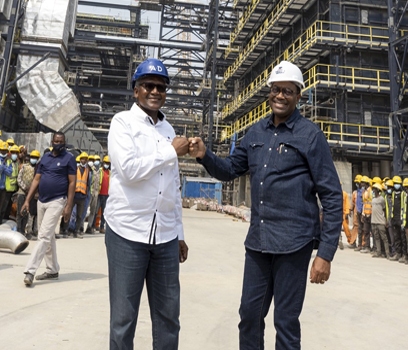 Africa's richest man, Aliko Dangote, and his conglomerate, Dangote Group, have announced a revised timeline for the commencement of operations at the highly-anticipated Dangote Oil Refinery, touted as Africa's largest integrated petrochemical complex.
Following a missed August production deadline, the refinery is now gearing up for refining operations to begin in October 2023, according to an official statement by Devakumar Edwin, Dangote Group's Executive Director responsible for overseeing the facility.
"We are ready to receive crude right now. We are just awaiting the arrival of the first vessel, and the moment it docks, we can commence operations," Devakumar Edwin said.
Edwin added that the refinery expects to receive its first shipment of crude oil within two weeks and that the first output of up to 370,000 barrels per day (b/d) will be diesel and jet fuel in October, while petrol refining will commence by November 2023.
His statement follows a period of uncertainty and speculation regarding the project's progress and its implications for Nigeria's role in the global oil market.
The Dangote Oil Refinery, with an initial processing capacity of 540,000 barrels per day, was inaugurated with great fanfare in May, representing a significant milestone for Nigeria's oil industry.
However, the initial August production target has come and gone without any sign of refined petroleum products hitting the market.
This has raised questions about the refinery's ability to meet 100 percent of Nigeria's refined petroleum needs and generate a surplus for export, potentially yielding $11 billion in annual revenue.
Despite these delays, Aliko Dangote's fortune has witnessed a remarkable surge, catapulting him back among the world's top 100 billionaires.
His net worth currently stands at a staggering $17.5 billion, positioning him as the 99th richest billionaire globally.
This surge in wealth is attributed to the sustained increase in the market value of his diversified portfolio, notably in Dangote Sugar Refinery and NASCON Allied Industries Plc.
The anticipation surrounding the merger of these entities with Dangote Rice has further fueled investor confidence and driven up share prices.
The Dangote Oil Refinery, once fully operational, is expected to significantly impact Nigeria's economy, reduce its dependence on imported refined petroleum products, and contribute to the country's status as a regional energy hub.
The revised October 2023 commencement date for refining operations is now eagerly awaited by industry stakeholders, with hopes high that it will mark a turning point for this ambitious petrochemical complex.