Death Too Many: Nigerian Players Union Mourns Ifeanyi George
Posted on March 23, 2020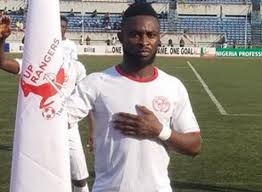 The unfortunate spate of death of Nigerian footballers in recent times, continued Sunday, March 22, 2020, as Rangers International Football club lost its top striker, Ifeanyi George to the cold hands of death in a car accident.

Ifeanyi George who was on forced leave due to the Corona virus pandemic, was reported to be traveling to Lagos from Onitsha, alongside two of his friends in his car when the car ran into a stationary truck on the Benin- Lagos road. And the three occupants died in the accident.

In a quick reaction to the unfortunate incident, the National Association of Nigerian Professional Footballers (NANPF), in a statement signed by the General Secretary, Comrade Austin Popo, described the incident  as 'painful and frustrating'.

"NANPF is pained and devastated by this new incident. We have been trying to manage and boost the dampened morale of our members, from the dead and to the recently injured players. Now, we have lost another promising player, Ifeanyi George to the cold hands of death. 

" These are indeed, times, for sober reflections and for spiritualism. We have experienced too many deaths and unfortunate injuries in our football in recent times. Beyond prayers and our avowed commitments to the welfare and betterment of the Nigerian footballers, the concerned stakeholders and investors in Nigerian football must rally efforts with NANPF to somewhat nip this avoidable incidents in the bud.

" And with serious pains in our hearts, we pray that God in His infinite mercies shall grant the families and friends of the departed souls, the fortitude and strength to bear this painful losses," he prayed.

He, however, revealed that a delegation of the players' union would visit the team and management of Rangers International FC, as well as, members of the deceased families to commiserate with them and tell them that the Nigerian football community is fully with them, at this difficult times.