Eastern Naval Command Arrests 707 Suspects in 3 Years
Posted on January 14, 2021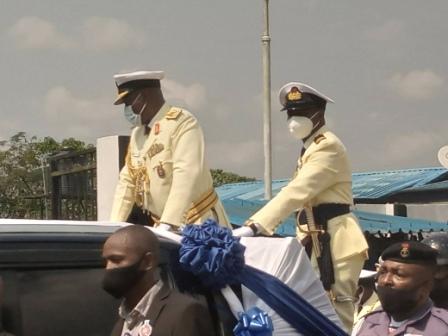 The Eastern Naval Command, ENC, comprising Cross River, Akwa Ibom and Rivers states has arrested 707 suspects, neutralised 281 illegal refineries, seized 38 vessels among others in the past three years.
This was disclosed on Wednesday by the Flag Officer Commanding the ENC, Rear Admiral David Adeniran at a valedictory speech to mark his retirement at the Nigerian Navy Ship, NNS Victory parade ground in Calabar, Cross River State.
According to Rear Admiral Adeniran, the command, since his assumption of office on August 28, 2018 to January 4, 2021, also smashed smuggling and kidnapping rings.
Rear Admiral Adeniran attributed the achievements to the commitment, hard work and resilience of officers and ratings in the command, adding "281 illegal refineries were neutralized, 50 kilograms of 31, 303 bags of smuggled rice were seized, 199,000 metric tonnes of stolen crude oil confiscated and 51,800 metric tonnes of illegally refined AGO seized".
He also said, "the command patrol efforts culminated in the arrest of 707 suspects, 38 vessels, 5 vehicles, the seizure of 196 pumping machines and dismantling of 225 wooden boats.
"A major piracy syndicate that specializes in ransom negotiations was smashed, which has obstructed and invariably checked the activities of pirates for several months now in the Eastern Naval Command area of responsibility."
Adeniran said the command within the period participated in several joint military operations with sister security agencies within the command's area of responsibility.
He said five new administrative management systems and cutting edge technology were deployed to create a smart working environment for personnel, save time and maximise available resources especially with the Covid-19 pandemic.
He thanked the Nigerian President Muhammadu Buhari and the Chief of Naval Staff, Vice Admiral Ibokete Ekwe Ibas for the opportunity given him to serve the country and the people in various capacities.
Adeniran also lauded the officers and men for the support given him while serving as FOC, saying "thank you very much. All the successes I have recorded is due to their support. I will urge you to keep the flag flying."