12-Year-Old Athlete, Adams Shines In 5,000m Race At Eko Grand Prix
Posted on September 3, 2016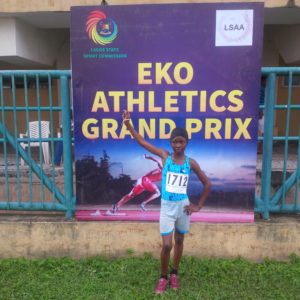 Though Aiyedun Adams came third to win bronze medal in the 5,000m race at the just concluded Eko Athletics Grand Prix, the zeal exhibited by the 12-year-old athlete received a loud ovation from the crowd at the Teslim Balogun Stadium, Surulere, Lagos.

With her third position in 22:01:02 secs. and her age, Adams of Splendour Athletics Club, beat older athletes whose ages range between 18 and 19 years. The likes of Olasupo Oladimeji and Ademola Modupe, who came fourth and fifth in 22:52:09 secs. and 23:14:62 secs. respectively trailed the teenager to the finish point.

In the first position was 19-year-old Olamide Oluwaseun who finished the race at a time of 18:20:59 secs., while Efe Agofure, 18, came second at a time of 18:20:70 secs.

Adams, a JSS 3 student of Igbobi Junior High School, told journalists that she was not scared of the older athletes in the beginning of the race, adding that she was able to achieve the feat with determination, having gone through serious training from her coach.

She said her ambition is to represent Lagos State and Nigeria in 5,000m race, which she wants to specialise in in future local and international tournaments.

Chairman of Lagos State Athletics Association, Professor Olatunde Makanju was glad with the performance of the young athlete and others who participated in the two-day tourney. He noted that the aim of putting the competition together is to keep the athletes busy and more importantly to ensure that they are ready at all times.

"All athletes that excelled in this tournament will be closely monitored, groomed, motivated and given technical support as we look forward to the National Sports Festival later this year, " Prof. Makanju said.

In some of the results in the finals, Cecilia Francis won gold in the 100m women race at a time of 11:88 secs., Precious Okoronkwo came second at 12:13 secs, while Joy Gabriel Udo returned at 12:17 secs. to pick the bronze medal.

Men's 100m final was won by Bamiyo Obute in 10:85 secs., while Funmilola Badewa and Peter Edwin came second and third in 10:86 secs. and 11:00 secs. respectively.

Other events competed for during the competition included 400m, 200m, 110m hurdles, 100m hurdles, 800m, shot put and relay races.