Eze Ugwunta Arrested For Hiring Assassins To Kill Another Ezendigbo Over N12m
Posted on April 22, 2022
MICHAEL AKINOLA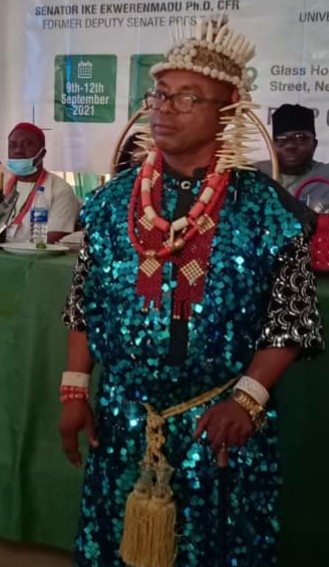 The Ezendigbo of Iyesi kingdom in Ogun State, Eze Chukwuemeka Ugwunta, has been arrested for allegedly hiring assassins to eliminate another Ezendigbo, Eze Paul Agbasiere, after swindling him of N12m before he fled. 
P.M.EXPRESS reports that Eze Ugwunta, who hails from Agbaja, Umumba Ndiuno in Ezeagu LGA, Enugu State, was arrested in his village and brought back to face charges by the Police intelligence officers from Zone 2 Command, Lagos.
Eze Ugwunta allegedly conspired with Eze Agbasiere's two brothers, Gilbert Agbasiere, 43, Michael Agbasiere, 55 and two other persons, Benedict Ogubuasi, 68 and Leo Akubulo, 68, and hired armed men who then went to Eze Paul Agbasiere's house to eliminate him, having realized that the alleged fraud has been exposed.
According to Police sources, Eze Ugwunta was said to have capitalized on the family squabble between Eze Agbasiere and his brother, Gilbert Agbasiere, to defraud him and ensured that the brothers were not at peace.
The prime suspect, Ugwunta, sometime in 2019, informed Eze Paul Agbasiere that his younger brother, Gilbert, wanted to take Ezeship in his Lusada and Alapoti kingdoms and had gone to the Council of traditional rulers in Lagos State for confirmation.
He informed Eze Agbasiere that since his brother had decided to take the title in the kingdom, that the brother's plan was to destablize him and there was need to stop him from taking the kingship, which he believed.
Ugwunta then demanded some documents from Eze Agbasiere over what his brother, Gilbert, had done in his family which was an abominable act, in order to show the Lagos Council of traditional rulers so that they will not crown Gilbert as Ezendigbo.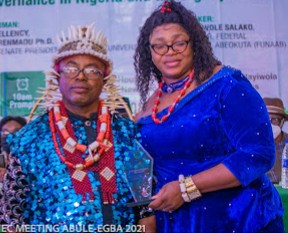 Having photocopies of those documents, he handed them to Ugwunta, who claimed that he had sent them to the traditional rulers and they had nullified the crowning of Gilbert as Ezendigbo.
Eze Ugwunta then told Eze Agbasiere that his brother, Gilbert, gave the traditional rulers N10m cash and other expenses worth N2m and since Gilbert will no longer be crowned king, he should bring the money so that they can give it back to Gilbert because any money that went to the traditional rulers will not be returned in line with Igbo culture and tradition.
Eze Agbasiere believed him and then sourced for the money. He gave Ugwunta N10m for the Lagos traditional rulers including another N2m he obtained from him for other expenses.
However, the scam got exposed after the Lagos Council of traditional rulers got the information and stated that there was no such matter before them and they did not collect any money from Gilbert or Ugwunta as he claimed.
Ugwunta then planned to assassinate Eze Agbasiere and his wife, Celestina, by attacking them but he failed. Ugwunta then changed his statement that he actually collected money from Eze Agbasiere, which he paid him in order to kill his brothers over the family matter they had and sent letter to Eze Agbasiere's traditional ruler in Awo Idemiri area of Imo State to blackmail him.
Following the alleged threat to life, blackmail and fraud, Eze Agbasiere wrote a petition to the AIG Zone 2 and Eze Ugwunta ran away and was at large before he was eventually arrested in his village.
During interrogation, he reportedly confessed and mentioned Eze Agbasiere's two brothers and other accomplices in the whole alleged fraud.
Having been found culpable by the Police, they were charged before the Ota Magistrates Court on an eighth count charge of conspiracy, stealing, attempted obtaining money under false pretence and assault on both Eze Agbasiere and his wife, Celestina.
When they were arraigned, they all pleaded not guilty.
The prosecutor, Inspector Rose Samson, then asked the Court to give a short clear date for trial for the Police to prove that they actually committed the alleged offence which brought them before the Court.
The Presiding Magistrate, Mr. A. O. Onaguruwa, granted them bail in the sum of N500,000 with two sureties in like sum.
However, they were remanded in custody pending when they will perfect their bail conditions while the matter was adjourned till 30th May, 2022, for trial.