Girl, 16, R*ped By Neighbour Delivered Of Baby Girl
Posted on June 30, 2020
CYRIACUS IZUEKWE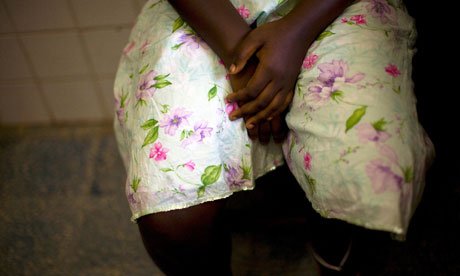 A 16-year old girl, who was allegedly raped and impregnated by their neighbour, Nathaniel Ogbeji, has been delivered of a baby girl in Egbeda area of Lagos.
P.M.EXPRESS reports that the girl put to bed safely but was said not to be happy over the whole thing because of the trauma she went through which resulted into pregnancy. She was said to have initially rejected the baby but later accepted her due to counselling from her family and Ireti Resource Centre, founder of an Initiative, Women's Right and Health project.
The Police at Ikotun Division in Lagos started manhunt for the fleeing factory worker, Ogbeji, who allegedly raped and impregnated the girl after luring her from their Church in the area.
The incident happened at Lamina Street off Liasu Road, Egbe area of Lagos, where they reside.
It was gathered that Ogbeji, who used to live on the same street with the girl's uncle, trailed her to the Church where he lured her into the act and defiled her.
It later got exposed and Ogbeji went with his family and pleaded for forgiveness. His plea was said to have been accepted by the girl's uncle until her body started changing and she was taken to the hospital for test where doctor confirmed that she was pregnant.
The matter was reported to Ireti group who contacted the Police. But when the Police got to the house, the suspect, Ogbeji, had moved out of the house with his family to an unknown place to in order to escape arrest and prosecution.
When P.M.EXPRESS contacted the Police at Ikotun Division, sources at the Station confirmed that Ogbeji was on the run and the Police were making efforts to arrest him. The same time happened at Ogbeji's residence, where his neighbours said when he realized that the victim was pregnant as the result of the alleged rape, he parked his belongings secretly and ran away.
Since that period the suspect has been on the run while the victim was taken to a hospital where she eventually was delivered of the baby yet to be named before this report.