Hawker Batters KAI Officer For Preventing Him From Selling On Highway 
Posted on September 22, 2022
MICHAEL AKINOLA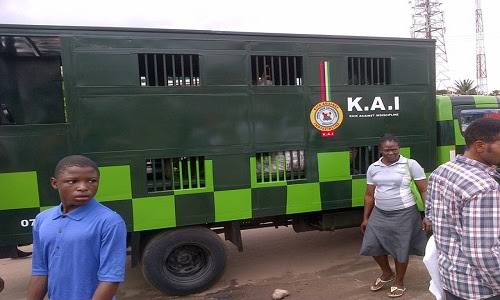 A female officer of the Kick Against Indiscipline (KAI), Oladunmi Ilesanmi, got what she did not bargain for while performing her lawful duty by attempting to arrest a street hawker, Ogbonnaya Egwu, who was selling plantain chips to motorists on the highway in Lagos State. 
P.M.EXPRESS reports that the 22-year old Egwu vented his frustration and anger on Ilesanmi and brutally battered her. She had sustained serious injury before she was rescued while attempting to seize his plantain chips he wanted to sell for survival.
The incident happened on 16th September, 2022, at Igando Bus Stop in the evening during the traffic build-up along the Iyana Iba/LASU Expressway in Lagos State.
The victim, after being rescued, was taken to an undisclosed hospital for treatment while the matter was reported to the Police at Igando Division. Police then trailed, eventually arrested the suspect, Egwu and detained him at the station for interrogation over his conduct.
During interrogation, Egwu reportedly told the Police that he was selling the plantain chips on the traffic to survive and he was at the Bus Stop when Ilesanmi accosted and held him claiming that she was performing her lawful duty by seizing his plantain chips worth an undisclosed amount.
The Police found him culpable and subsequently charged before the Ejigbo Magistrates Court for conduct likely to cause breach of public peace and assault on the female KAI officer.
When he was arraigned, he pleaded not guilty before the Court.
The prosecutor, Supol Benedict Aigbokhan, then asked the Court to give a date for hearing since he pleaded not guilty to enable the Police to prove that he actually committed the alleged offence.
The Presiding Magistrate, Mrs. A.K. Dosumu, granted him bail in the sum of N100,000 with a responsible surety in like sum, who must show evidence of means of livelihood.
However, he was remanded in the Correctional Centre at Kirikiri town, Lagos, pending when he will perfect his bail conditions while the matter was adjourned for mention.