How Akeredolu Emerged Ondo APC Guber Candidate
Posted on September 4, 2016
How Akeredolu Emerged Ondo APC Guber Candidate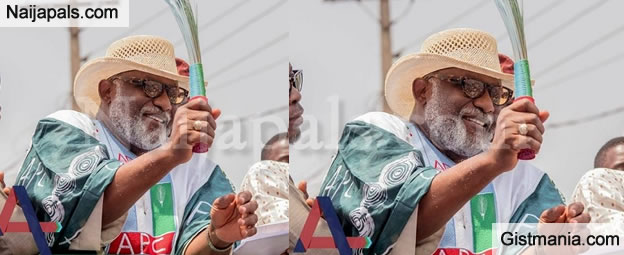 Senior Advocate of Nigeria (SAN), Mr. Rotimi Akeredolu, beat 23 other aspirants by 669 votes to clinch the All Progressives Congress (APC) governorship ticket for the Ondo State polls in November.
He narrowly defeated Olusegun Abraham, who got 635 votes. A popular aspirant, Olusola Oke got 576 votes, Borofice got 471 votes, and Mrs Jumoke Ajasin Anifowose got 1 vote.
Other aspirants who got votes include Ekungba-44 votes, Apata- 2 votes, Adetula- 8 votes and Ayorinde- 67 votes.
The voting exercise took place at the International Event Centre, Dome where the APC primary took place.
In 2012 Akeredolu was the party's standard bearer but he lost the election to incumbent Governor Olusegun Mimiko of the Labour Party who later defected to the Peoples Democratic Party (PDP).
Before the APC primary which was earlier scheduled for Saturday, 27 August but was shifted to Saturday 3 September, there were fears that there would be imposition of a candidate.
But the defeat of Abraham said to be the preferred candidate of one of the party's leaders appears to have put paid to such fears.
On Sunday party members went on a solidarity rally to the home of Mrs Anifowose, one  of the aspirants.
The excited party members who thanked God that the primary ended peacefully, were on their way to the palace of the Ondo monarch at the time of this report.