Hushpuppi Connected To Several Cyber Crimes, Says EFCC
Posted on June 19, 2020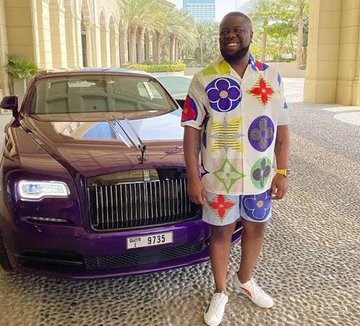 The Economic and Financial Crimes Commission (EFCC) has declared Ramoni Abass aka Raymond Igbalode and also known as Hushpuppi, wanted in relation to several money laundering crimes being investigated by the anti-graft agency.
According to a tweet on the official handle of the anti-graft agency, most of the transactions involve high profile cyber criminals in Nigeria who are already facing trial, and some who are still at large.
Referred to as Nigeria's most wanted hacker, EFCC confirmed that Hushpuppi was arrested on Wednesday, June 10 by the INTERPOL in the United Arab Emirates.
The anti-graft agency added that EFCC is engaging with the Federal Bureau of Investigations (FBI), "in tracing victims of his fraudulent transactions and other fraudsters having direct involvement with him".
"The Commission is familiar with grisly details of his money laundering transactions, involving many high-profile cyber criminals facing trial in Nigeria", EFCC said in its tweet.
Several local cyber criminals with money-laundering networks connected to him are also being investigated, even as the INTERPOL expedites plans to extradite him to Nigeria to face multiple fraud charges.
Hushpuppi, an Instagram celebrity with much of his following attributed to the exotic lifestyle and properties which he flaunts on the social media, alongside some of his colleagues were arrested in Dubai by International Police (Interpol) and Federal Bureau of Investigation (FBI) over alleged fraud.
Hushpuppi's arrest was captured on camera by an individual and posted on Instagram, after which the post went viral.
While INTERPOL has said that Hushpuppi and his accomplices were allegedly involved in fraud and money laundering of over $100 million meant for unemployed Americans, EFCC's tweet also links him to the $35 million ventilator scam.
He recently posted a picture of a newly acquired 2020 Rolls Royce Cullinan, estimated to be worth about N280 million.
He also does regular give-aways and freebies on his Instagram account, asking followers to inbox their account details to receive the gifts.
Up until last year, his Instagram profile read, 'the Billionaire Gucci master' but he changed it to 'real estate developer' after the EFCC arrested one of his associates – Ismaila Mustapha, also known as Mompha.
Mompha has since been granted bail by the Commission, and even celebrated his birthday recently, sharing pictures of a cake designed as a bag filled with foreign currencies, and a picture of himself sitting on a Lexus car.