I Used Her To Perform Ritual – Native Doctor Tells Man Who Brought Daughter For Healing
Posted on February 22, 2021
AISHA ABUBAKAR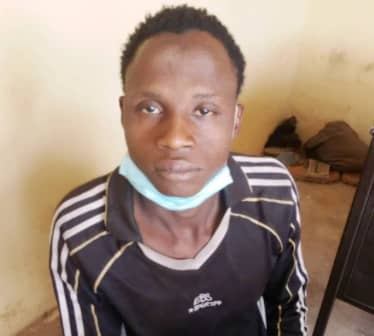 A 28-year old native doctor, Rufai Yunusa, has confessed that he used a 2-year old girl brought to him for spiritual healing to perform certain rituals by killing her inside bush.
P.M.EXPRESS reports that the suspect, Yunusa, made the confession after he was arrested and paraded by the Bauchi State Police Command having killed the girl, who was taken to him for spiritual treatment by her father.
The father reportedly took the daughter to the Yunusa for spiritual healing and when they got there, he told him to pay N10,000 which he will use to buy materials for the healing, which the girl's father paid.
However, after the girl's father made the cash payment, Yunusa took the girl inside the forest and slaughtered her there. He then used her blood to perform some rituals and secretly buried her corpse.
He came out from the forest and told the man that the girl got missing in the forest and he could not find her.
The girl's father went to the nearest Police Station and reported the matter. Yunusa was then arrested and detained at the Station for interrogation.
During interrogation, he confessed to have slaughtered the girl inside the bush with a knife and used her to perform rituals there. He made further confession to have done that in the past as his customers won't talk because he always told them that their child might come back alive or might not, after taking them inside the bush for spiritual cleansing.
According to Police source, the suspect will be charged before the Court for murder and if he is tried and found guilty, he may be sentenced to life imprisonment for the alleged offence.