ILO, Media Professionals Plot Ambush For Child Labour in Osun State
Posted on July 31, 2021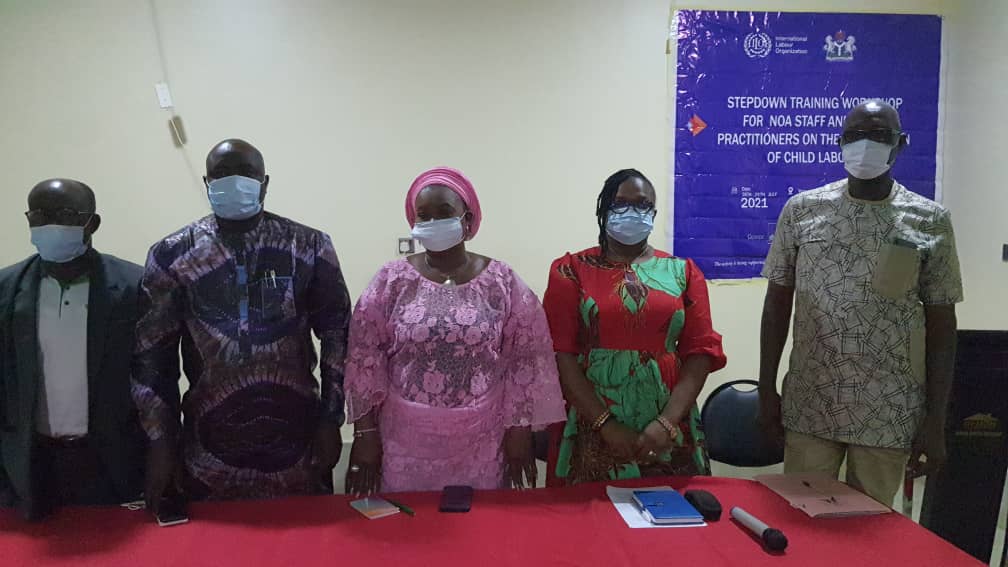 Media professionals under the structures of the Nigeria Union of Journalists (NUJ), Radio, Television, Theatre Workers Union of Nigeria (RATTAWU) and National Orientation Agency (NOA) in Osun State have issued a communique signalling preparedness to accelerate the elimination of child labour especially in agriculture and mining, from the State of Virtue.
The document, released on Thursday 29 July at the end of a four-day step-down training for media professionals on the elimination of child labour, was organised by the Dutch funded, International Labour Organization's ACCEL Africa Project in Nigeria.
Titled document titled "Communique Issued at the Training Workshop for Nigeria Union of Journalists and Staffers of the National Orientation Agency in Osun State on Accelerating Action for the Elimination of Child Labour Organized by International Labour Organization" recommended the following:
Community leaders must be held responsible in any geographical area where a child is being exploited in cocoa plantations and Artisanal Mining Sites.
Government should include a clause in the contractual agreements to be issued to miners and cocoa farmers that no child must be found on site.
The media and NOA in their social responsibility must sensitize the members of the public on the evils of child labour.
The media must be actively involved as a matter of duty in agenda setting on child labour with a view to impressing it on government and all other relevant stakeholders to eliminate child labour.
NUJ, NOA, Ministry of Labour and Employment, ILO and community leaders must synergize towards attaining the 2025 target of eliminating child labour.
The government should empower farmers, miners and community dwellers to end issues of poverty, illiteracy, and ignorance which are cardinal causes of child labour.
Conventional and new media should come up with more editorials, columns, opinions, and production of jingles, skits and programmes that will highlight the dangers inherent in child labour.
Media practitioners should exert more energy (emphasis should be made more) on investigative journalism on child labour rather than mere breaking news or political stories.
Media and NOA should sensitize the general public on the distinction between acceptable and unacceptable forms of child work (child labour).
The state government should take proactive steps in the implementation and enforcement of the Child Rights Law.
The International Labour Organization (ILO) should intensify more efforts in supporting any research targeted at eliminating child labour.
There should be establishment of community parenting and setting up of a specific tribunal to try parents who subject their children to hard labour.
Speaking with newsmen at the conclusion of the training, the National Coordinator of the ACCEL Africa Project in Nigeria, Agatha Kolawole highlighted the importance of the media in disseminating the correct messages to communities in Osun State using solutions-based reportage.
According to the Coordinator, this is in line with the National Social and Behavioural Change Communication Strategy (SBCC) for Nigeria, designed to ensure behavioural change at local, national, micro, meso and macro levels in the quest to achieve Sustainable Development Goal 8.7.
Osun State has recently attracted concerns from the ACCEL Africa Project in Nigeria for having communities where both cocoa farming and Artisanal Gold (ASGM) involve the use of children for hazardous work.