Imo Deputy Speaker, Iwuanyanwu Bags Second Term Endorsement From Constituents
Posted on April 22, 2022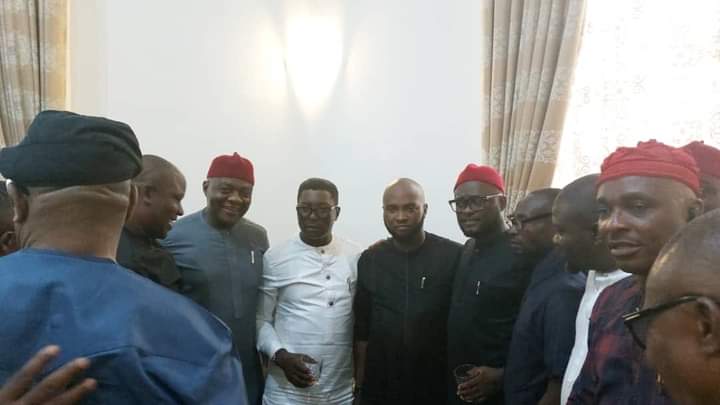 While majority of the members of Imo State House of Assembly under the present dispensation are still confused and uncertain about their next political sojourn, that is not same with the Deputy Speaker, Rt Hon Amara Chyna Iwuanyanwu, as he has bagged the confidence of his Constitutuents to return for a second tenure.
Rt. Hon Amara Iwuanyanwu, Mr. Capacity, has been asked to return to the State Parliament to continue with his effective representation.
This assurance was handed over to him by a political titan of Nwangele Local Government Area of the state, Chief Johnbosco Ozigbu, the Ogwuaga of Ogwuaga.
High Chief Ozigbu, fondly known as Ngele of Nwangele for his political sagacity, during the Easter celebrations adopted the Deputy Speaker as being eminently qualified for the second tenure.
He thumbed up for Amara Iwuanyanwu stating that he did not endorse him out of any sentiment, but because he has served Nwangele people efficiently in his tenure.
The Construction guru and renowned philanthropist, High Chief Ozigbu, opined that as a first timer, Amara did what most people could not do.
On Constituency representation, he added that Nwangele people are satisfied with him, hence, his qualification for a return ticket to the House of Assembly 2023.
The Deputy Speaker, Iwuanyanwu, who paid the Easter visit to Ozigbu's residence, in response described him as a worthy leader, whose mentorship has led many of them far in life.
Rt. Hon. Iwuanyanwu lauded High Chief Ozigbu for his philantropic gestures towards humanity and for his developmental imprints.
The number two lawmaker in the state therefore, reassured his committment for the betterment of the LGA and for Imo State.
It could also be recalled that before now, many endorsements had trailed the re-election bid of Amara Iwuanyanwu from men, women and youths, following his laudable achievements.