Lagos Independence 7s Int'l Rugby Tournament Kicks Off
Posted on October 6, 2016
TAIWO ADELU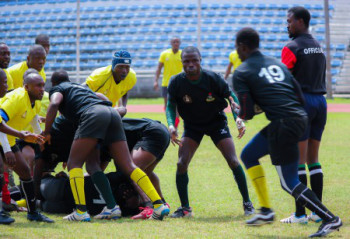 Rugby lovers are set for an exciting time as the 2016 Lagos Independence 7s Rugby Tournament kicks off at Onikan Stadium on Saturday.
The two days event, which holds from 8-9 October, will feature teams Samurai Bulldogs of UK, the Zambian national 7s team and Alexandria Rugby Club of Egypt, who will be competing with the best of our Nigerian club sides such as Cowrie RFC Lagos, Barewa RFC Kano, Nigeria Police RFC and others.
This year's edition promises to be a grand event as Lagos State Government, through Lagos State Sports Commission, is partnering with the organizers, Friends of Rugby to provide a truly world class competition. Through this event, the Lagos State Rugby Football Association intends to promote awareness and improve the level of participation for the sport especially among the youth in the state.
The organisers planned a carnival-like atmosphere at the venue throughout the duration of the tournament.
Special Adviser on Sports to the Governor of Lagos State, Mr Deji Tinubu said that over the past seven years, this event has become an important part of the Nigerian sports calendar and acquired a special place in the hearts and minds of Rugby players and enthusiasts.
He added, "the goal of Governor Akinwunmi Ambode is to first create a sports culture in Lagos State and eventually make us Africa's sports hub and we are determined to achieve these goals. Our support for, and participation in the 2016 Independence Rugby 7s event is in line with the stated goal.
"By supporting this year's edition, the Lagos State Sports Commission expects the tournament to help popularise and grow Rugby in the state as we gradually improve the event to world class standards."