Lagos Lifter Ogungbure Shines As Southwest Weightlifting Open Championships Ends
Posted on September 17, 2022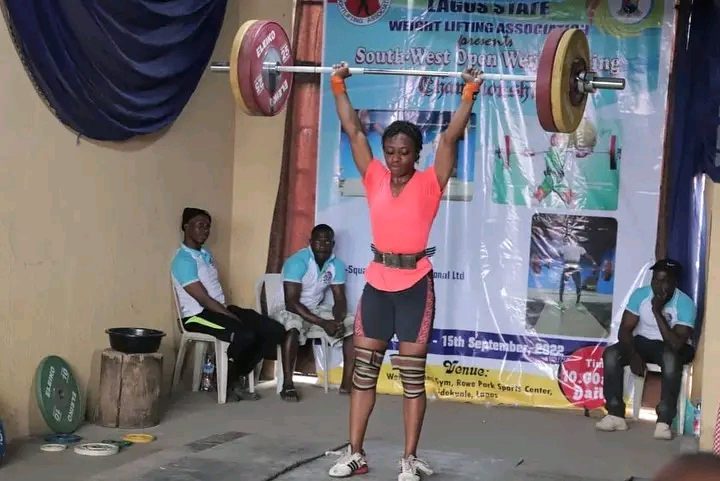 The 2022 Lagos South-west Weightlifting Open Championship has been rounded off at the Rowe Park Sports Centre,Yaba, Lagos, with Lagos State Athlete, Ogungbure Blessing Adebimpe winning a gold medal in the 71 category.
The three- day championship which also featured Talks on " Doping" was designed to showcase and harness the talents in the region for onward transmission to the National level.
Osun,Ogun,Ondo,Ekiti and Oyo States participated with Lagos as the host.
Ogungbure who participated in 71kg category lifted 87kg in the snatch and 110 in clean and jerk.

"I am happy for winning Gold in this championship. I am also putting more effort in my training, so that I can win gold at the national championship",an elated Ogungbure Blessing Adebimpe said.
Director General, Lagos State Sports Commission, Oluwatoyin Gafaar,said the essence of the programme is also to evaluate the state preparedness for the national championship.
He also revealed that renovation and upgrading are ongoing in the state in conjunction with the THEMES agenda of Mr.Governor Babajide Olusola Sanwo-Olu's administration.
"The state government has embarked on renovation and sporting facilities development to ensure that our athletes get prepared for the next competitions"
Chairman Lagos State Weightlifting Association, Kunle Komolafe, posited that for the athletes to compete at the regional level, adding that they will do better and have much more gold medals.
"With their experience at the level of South-west championship here in Lagos, I am very sure when they get to the national tournament they are going to do better".