Lagos Ready For Beach Soccer Nations Cup
Posted on December 8, 2016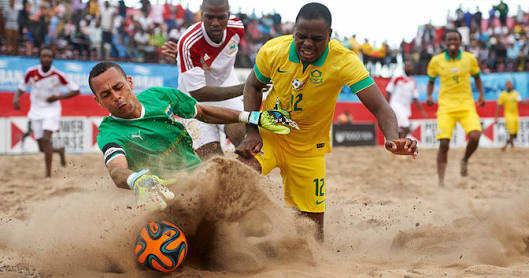 TAIWO ADELU
With few days to the 2016 CAF Africa Cup of Nations Beach Soccer /2017 FIFA Beach Soccer World Cup Qualifiers, Lagos State Government has shown its readiness to host a hitch free and glamorous tournament, which holds from 13-18 December. 
The State Government through Lagos State Sports Commission says it will  leave nothing to chance not only to give the visiting African teams, coaches, officials of the Confederation of Africa Football (CAF)y the best of Lagos hospitality, but also ensure that the competition meets up to the standard expected.
The Sports Commission has since swung into action with the inauguration of various sub-committees with people of proven characters and experience to work with the Main Organizing Committee (MOC) and other relevant authorities of CAF for the competition.
As it was the style of Lagos, the Centre of Excellence, no dull moment, the city is agog, most especially the Atlantic City on Lagos Island where the tournament will take place is wearing a new-look.
Lagos State has put all the logistic needed in place. The transport and security sub-committees are shuttling the Muritala Muhammed International Airport, Ikeja to receive the delegates coming for the Lagos 2016 Africa Beach Soccer Nations Cup.
Meanwhile, nine CAF officials arrive from Cairo, Egypt to Lagos on Friday.
The delegation are  Mohamed Thabet Elsadek, Media Manager, Ayman Faisal , IT Assistant Manager, Mohamed Alaa, Digital Platform Officer, Ahmed Mohamed Hassab, Accounting and Procurement Manager, Ahmed Gamaleldin Taha, Services and Transport Coordinator, Maillet Eddie , Refereeing Manager, Sherif Ahmed, Medical Operations Manager, Amina Kassem, Head of Disciplinary Matters and Ahmed Reda Salem , Event Director .
The Africa Beach Soccer Cup of Nations is the main international championship for beach soccer in Africa, mirroring that of the Africa Cup of Nations in association football, aiming to crown the best nation on the continent.
The following eight teams qualified for the final tournament. They are Nigeria, the host, Egypt, Ghana, Libya, Ivory Coast, Madagascar,  Morocco and Senegal