Literacy Week: Renowned Author Jonathan Meres Meets Riverbank Schools Chairman, Siju Iluyomade
Posted on March 8, 2020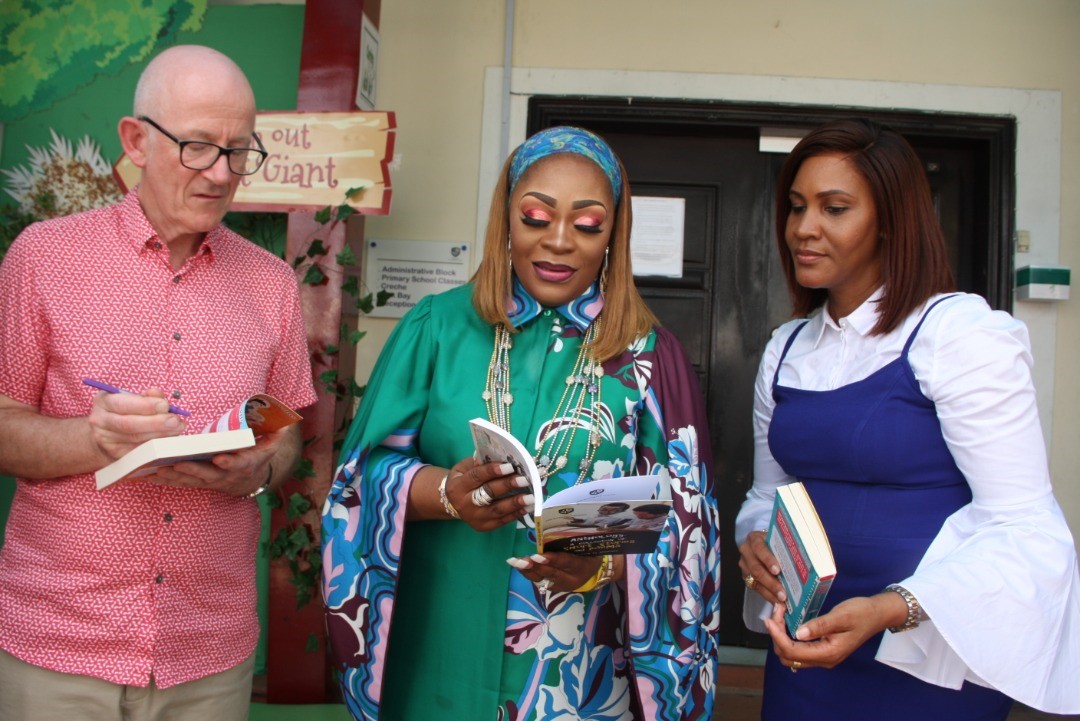 It was a great moment for the pupils and management of The Riverbank Schools, Victoria Island, Lagos when it celebrated its 'Literacy Week', which coincided with the World Reading Day, a day set aside to promote reading culture worldwide.
The day witnessed special visitation of renowned author and actor Jonathan Meres who  took the opportunity to signed on some of his numerous books for the delectable Chairman of Riverbank Schools, Dr Siju Iluyomade.
The school which has expanded steadily over the years with an outstanding reputation for achieving the best for all of its pupils, were in ecstatic mood seeing their Chairman on its Literacy Week coupled with the presence of Mr Meres who also seized the occasion to encourage scores of brilliant pupils of the School who were in exciting mood.
Led by the Head Teacher, Regina Jemide. 
In her words, Dr Siju who thanked the popular 62-year old Nottingham-born author for presenting her with his signed books, said "literacy is the most basic currency of knowledge economy. A child who reads will be an adult who thinks. Education is the passport to the future, for tomorrow belongs to those who prepare it today".
With excellence in its Creche, Nursery, Primary and Secondary Schools, Riverbank Schools provides a breath of opportunities in which children can develop their own individual talents and attain their full potential within a very strong and supportive framework.