Man Docked For Using Office As Police Station To Intimidate & Extort Innocent Victims 
Posted on September 27, 2022
MICHAEL AKINOLA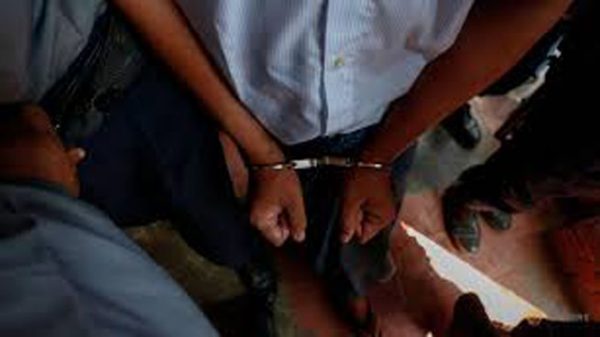 The Police Intelligence team from Isheri Oshun Division of the Lagos State Command has arrested a 40-year old self-acclaimed human rights activist, Chamberlain Uwandi, for allegedly operating illegal Police station, where suspects were arrested and granted bail for undisclosed amounts.
P.M.EXPRESS reports that the incident happened at Ijegun area of Lagos, where Uwandi opened an office for human rights services and converted it as a mini-Police station to handle both criminal and civil matters using the instrument of force to intimidate innocent victims.
He also engaged the services of a 37-year old man, Isaac Gabriel, as a fake Military personnel using him to intimidate and extort innocent victims.
However, the whole scam got exposed after he summoned a woman and detained her before granting her bail after she was forced to sign an undertaking to move out from her apartment following a report made by her landlord against her to Uwandi.
Hence, the woman reported their activity to the Police at Isheri Oshun Division and the DPO moved into action; arrested Uwandi and Gabriel and detained them for interrogation over their conduct.
After thorough interrogation, the Police found them culpable and subsequently charged Uwandi before the Ejigbo Magistrates Court for conspiracy and using his office as charge and bail point for victims under the false pretence of human rights services while Gabriel was charged for impersonation by claiming to be a Military officer.
They both pleaded not guilty when they were arraigned.
The prosecutor, Supol Benedict Aigbokhan, then asked the Court to give a date for hearing since they pleaded not guilty to enable the Police to prove that they actually committed the alleged offence.
The Presiding Magistrate, Mrs. A.K. Dosumu, granted them bail in the sum of N200,000 with two sureties in like sum.
However,  they were remanded in custody at the Correctional Centre, Kirikiri town, Lagos, pending when they will perfect their bail conditions while the matter was adjourned for mention.