How Man Plucked Neighbour's Eye With Broken Bottle
Posted on October 7, 2016
CYRIACUS IZUEKWE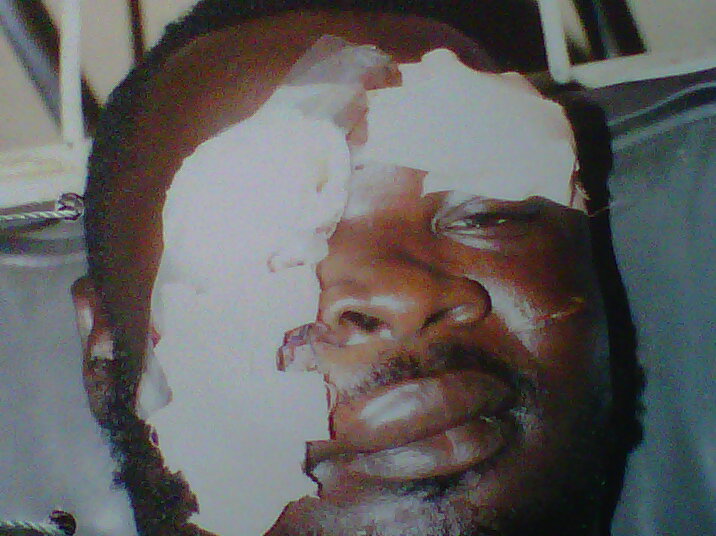 A 34-year old man Tochukwu Emeka has narrated before the court how his neighbour, a 31-year old, Adebayo Alake used broken bottle to removed his eye and it fell on the ground and damaged.
Alake was arrested and charged before Isolo Magistrate's court with attempted murder after he inflicted such sever injury Emeka.
The victim also revealed at the court that the remaining eye was also affected as he may go blind if adequate care is not taken for treatment because of the attack.
The incident happened at 23 Goloba street in Isolo where both the victim and suspect reside.
Narrating what happened, Emeka said he was in front of their house when he had exchange of words with Alake who is a Keke Nappep driver before he drove out.
He said he relaxed in front of their house when Alake returned to the house without his Keke.
He said he the next he witnessed was when he carried a broken bottle went straight to his eye and stabbed and pluck it out and it fell down.
He said he was bleeding profusely and he did not stop the attack, adding that he used the bottle and stabbed him in other parts of his body before he was rescued.
After the attack, he fled and later return to the house after he was taken to a hospital where he was admitted for several weeks.
When Alake was eventually arrested and taken to the station, he did not deny the attack.
An Ilesha, Osun State born said he did that under the influence of alcohol because he was angry he called him drunkard.
Police charged Alake with attempted murder and serious assault under the Criminal Code.
At the Isolo Magistrate's court where Alake was arraigned, he pleaded not guilty.
He was granted bail and remanded in prison custody pending when he will perfect his bail.
The matter was slated for trial on 20 October 2016.
There was a new twist on Thursday after the victims gave insight on what happened and the matter was reportedly refered for DPP for advice.