Margret Okonkwo: Dedicated Against All Odds
Posted on February 24, 2019
CYRIACUS IZUEKWE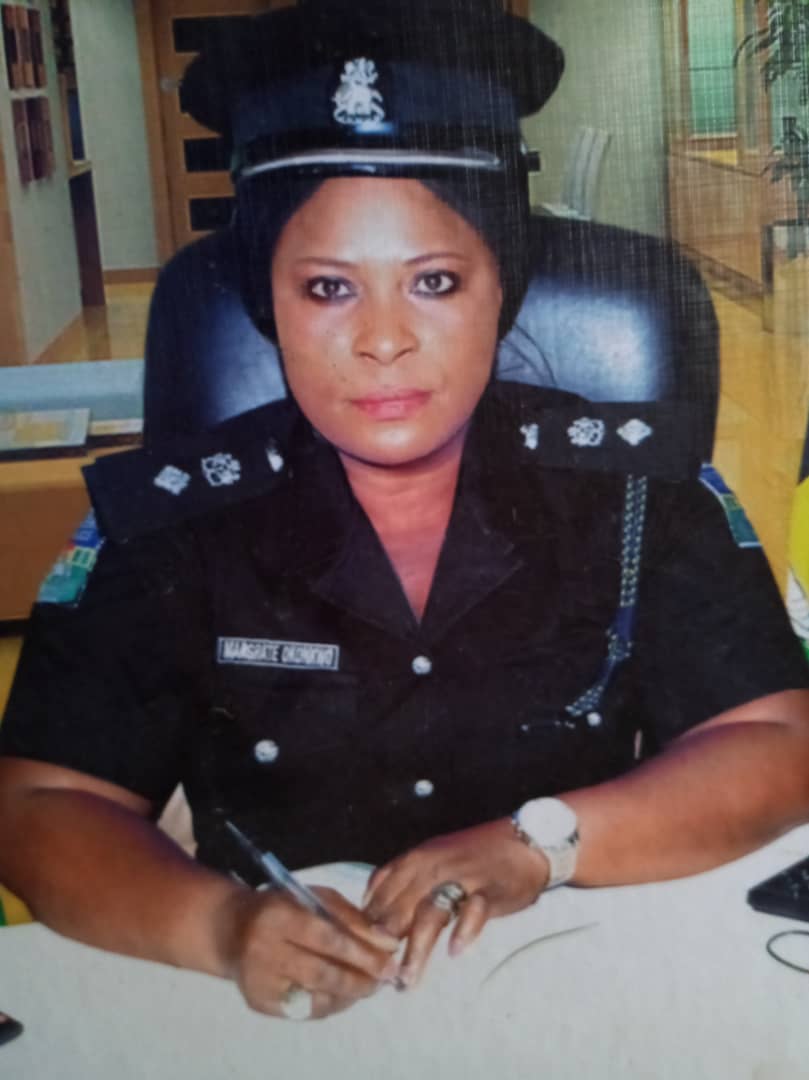 It was Thomas Hauser who said that being a good police officer is one of the most difficult, dangerous and idealistic jobs in the world. It is particularly important to note that policing is very demanding, as their work demands that they be permanently on call. At the same time the Police Force has had a bad name over the years because of a few rogue officers who have given new meaning to the saying; one rotten egg spoils the entire pudding. By their selfish acts, they have dented the image of the police and as fate would have it, the bad elements in the Force are easily noticed
But it would be dishonest to deny the existence of a good number of police officers who execute their duties with diligence and dedication.
Accordingly, P.M.EXPRESS deems it fit to highlight such hard-working officers like Chief Superintendent of Police, CSP Margret Okonkwo, who has of recent faced much travail owing to her commitment and dedication to perform her lawful duty in the interest of the public.
The traffic law breakers saw her discipline and commitment to curb the traffic situation as the Officer in Charge in Lagos State as an obstacle hence all sorts of blackmails were made against her.
However, she has already walked into the hall of fame as one of the senior dedicated officers in the Nigerian Police following her exploits in the Traffic Division of the Lagos State Command.
P.M.EXPRESS reports that it was the findings of the Lagos residents who had observed her activities after she was made the Officer in Charge of traffic in the State. She was said to have led the section by her exemplary operations by personally monitoring and commanding traffic by herself despite the fact that she was in charge of the division thereby alleviating the traffic situation in the ever busy Lagos roads.
According to the residents, Okonkwo was so dedicated that she woke up every morning and moved round the state and ensured that the roads were free of traffic congestion and the work will take her through the day till night when she will have to go home.
She was said to have great passion for the police work and this has earned her several awards in recognition of her dedication and efforts by several individuals and organizations.
In 2018, Okonkwo was nominated among the top smart police officers in Lagos Command by the then Commissioner of Police, Mr. Imohimi Edgal.
Thus, P.M.EXPRESS then moved to find out who CSP Margret Okonkwo was and why she was so passionate about her job as she moved to other responsibilities in the Nigeria Police.
A peep into her profile showed that Chief Superintendent Margaret Okonkwo obtained the National Certificate of Education from Alvan Ikoku College of Education, Bachelors of Science degree in Economics/ Education from University of Nigeria Nsukka, Masters in Public and International Affairs from University of Lagos. During her academic pursuit she was the Vice President of her department (Economics).
Margaret was recruited into the Nigeria Police Force as a cadet Assistant Superintendent of Police, Course 21 Police Academy, Wudil, Kano in 2002, also a Unit Parade Commander of her squad (5). She was the general number one for both women Cadet ASPs and Inspectors respectively. She went through several trainings, physical and citizenship trainings at Sherri Hills Plateau State, and equally underwent combat and operational trainings at Gwoza, Maiduguri 2003.
On completion of her course in 2004, she was posted to Kaduna State. After her stint in Kaduna, she was drafted to the United Nation Peacekeeping Mission in Kosovo July 2008– 2009. While serving there Margaret Okonkwo attended a course on Security and Criminal Intelligence, and she had another one on Intelligence Report Writing Evaluation Handling System in Kosovo. She also attended pre –redeployment training course in Ghana 2012.
On her return from the United Nation Peace Keeping Mission, she was posted to Lagos State Police Command where she served as the Divisional Crime Officer, Ikeja Police Station (Area F Police Command). Margaret also served as an officer in charge Juvenile Welfare Center (J.W.C.) Area F Ikeja 2012. She served as a Divisional Traffic Officer Man Centre Police Station, before moving to serve as Divisional Traffic Officer, Oko-Oba Police Station under Area G Command in 2013. After three months at Oko-Oba Police Station, she was posted as the Area Traffic Officer Area G Command – supervising Nine (9) Divisions of the Area Command.
She performed her duties professionally without supervision as the Area Traffic Officer and was fondly called Iya Onigba on the field of traffic control. During the mass transfer of 2015, she was moved to Ebonyi State where she was posted as the Area Crime Officer, Abakaliki Metro. In 2016, Margaret was transferred to Railway Police Command and was posted as the Divisional Police Officer Agege Station in Lagos State, where she performed more than expected of a female officer. Her strength of character and dedication to assigned duties really sum up the adage that 'what a man can do a woman can do better'. She has shown over time to be a talented and smart officer with a difference. Presently she is at the Area F Police Command, Ikeja after serving meritoriously as Lagos State Traffic Officer fondly called MOTOPOL.
CSP Margaret Okonkwo is a recipient of Gold Medal Award from the United Nations for hard work and dedication to duty. She was given an award by the Nigeria Union of Journalist, Lagos Chapter in recognition of her selfless service to humanity in the area of traffic management and control. Junior Chambers International, Lagos Metropolitan Nigeria equally gave her an award for Exceptional Talent, Strength and Outstanding Performance.
On the 30th of November, 2017, she received the Crime Reporters Association of Nigeria (CRAN) award for Excellence in Traffic Management. Margaret is also a humble holder of the Pragmatic Leadership Award by Society for Public Against Drugs and Crimes (SPODAC), 2017. Peace Magazine also gave her an award for Excellence in Crime Fighting 2017. CSP Margaret Okonkwo bagged a Monumental Achievements Award from Crime Link Publications in 2017, in recognition of her commitment to National Development through crime prevention, management control, conflict resolution and respect for human rights. She also got a Meritorious Service Gold Award from Leadership Values and Principles Enhancement Initiative for Crime Prevention, Management and Control 2017. Margaret has so far received all kinds of awards for her committed approach to duties including Charismatic Leadership Award in Commitment to Public Service Through Traffic Prevention, Control Management, Peace Building and Administrative Excellence by Nigeria Voice of Peace Reconciliation, a distinguished Police Merit Award as the Most Distinguished Police Officer in Diligence and Meritorious Services to Humanity by Fresh Fact Magazine 2018, A Distinguished Service Excellence Award for commitment to citizen welfare through crime prevention, award for Effective Policing and Community Relations by Citizen Welfare Foundation 2018, Leadership Hope Media Achievers Awards for excellence service to humanity, Special Recognition Award by CWAY Food and Beverages on Traffic Control Day, 2018. The Nigeria Focus News Magazine award was also presented to her in recognition of her commitment to National Service.
CSP Margaret Okonkwo has been honoured with different awards for her distinguished service to Nigeria and her immediate constituency, the Nigeria Police Force (NPF).
This dynamic smart police officer has also been recognised in her home community as an achiever and exemplary ambassador of her people. Her community gave her the traditional chieftaincy title – Ada Dioramma of Igbo land. She also holds the chieftaincy title – Ugebe Ezinulo of Abatete in Anambra State as well as having been honoured with Ogbu Abatete Improvement Union Merit Award, while not excluding the Abatete Development Organisation Honourary Award in 2016. CSP Okonkwo is married and blessed with children.