New-Look Danjuma Babes FC Unveiled In Lagos, Set NLO Target
Posted on September 13, 2020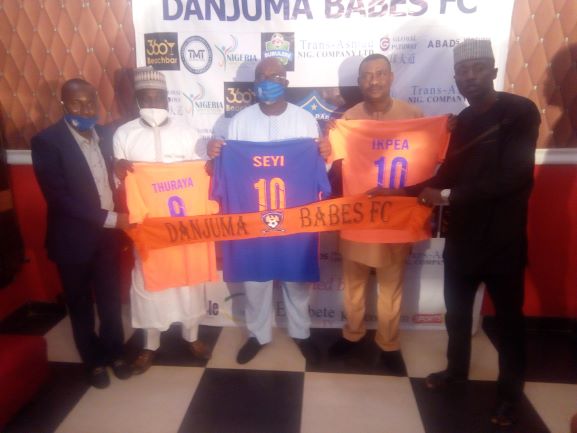 A Lagos-based grassroots football outfit, Danjuma Babes Football Club, has just been repackaged and rebranded to reposition itself to modern day footballing.
The club which was earlier known as Unique Sports, metamorphosed to Danjuma Football Club in 2010, but because of its dysfunctions, the Chairman of the club, Alhaji Muhammed Lawal Danjuma decided to incorporated the company and rechristened it Danjuma Babes in 2018.
The rebranding and unveiling ceremony, which was held in Surulere in Lagos, was attended by the crème de la crème in Nigerian football who included the 1st Vice President of Nigeria Football Federation (NFF), Barrister Seyi Akinwunmi, Chairman of Surulere Local Government, Tajudeen Ajide, National Chairman of Nigerian Football Supporters Club, Rev. Sam Ikpea and President of NANF, Tijani Babangida, Chairman Surulere Regional Football League, Alhaji Salaudeen Abiodun and a host of others.
Barrister Akinwunmi, who is also the chairman of Lagos State Football Association (LSFA) assured the management of Danjuma Babes of the FA full support.
"We are committed at the FA to ensure that all clubs are given equal attention and what Danjuma Babes is doing today will no doubt encourage other clubs to repackage themselves for success. I want to assure that whatever I am doing as the Chairman of Lagos FA, I will be doing it without any condition attached to it. I don't want anybody's gratification to support any club," Akinwunmi said.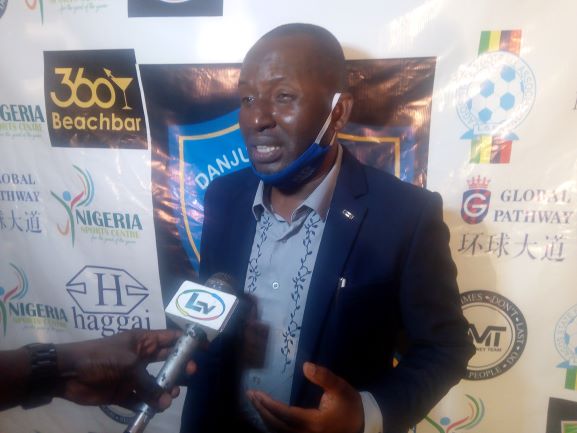 Alhaji Abiodun of Surulere Regional Football League wanted every grassroots club in Lagos to take a cue from what Danjuma Babes Football Club did by rebranding itself and shifting to being semi pros.
Giving an insight the repacking and rebranding of Damjuma Babes is coming this time; Alhaji Danjuma said club football in the world today has gone beyond plying the round leather on the pitch.
"We have a lot of things going for us at Danjuma Babes and we believe we should graduate from being a mere grassroots football club to a semi pros club. If we want to do this, we must put in place some structures that will make the world see us as a serious club who is ready to do the business of football.
"We have array of good players we can use to prosecute our assignments. With support from our jersey manufacturer, Haggai, we want to rebrand the club so that the name will be known all over the world with our jerseys, training kits, travelling kits and so many souveniers. We are a semi professional club ready to rejig grassroots football in Nigeria. We want to see our players doing this nation proud in the national teams and playing abroad. We had many of our players in leagues outside Nigeria before now and we want to continue to export more of them to the world.
"Our target is to win the ongoing Surulere Regional League because we are no pushers in the tournament and ultimately we want to play in the Nigeria's Nationwide League One (NLO). We have the resources to achieve these ambitions and we are ready to make a big statement in club football in Nigeria," he said.