Nwankpo: The man Who Changed My Perception Of Ndigbo
Posted on March 5, 2021
KUNLE OGUNNUBI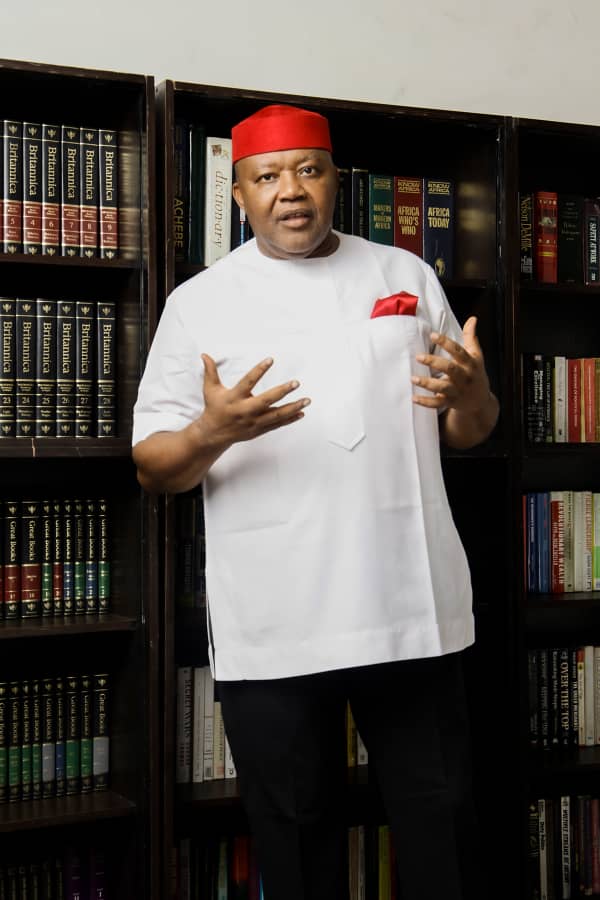 I have had unpleasant experiences with some folks from South East which congealed my impression of people from the South East as irritable people, who are venting their anger over the loss of the Civil War on others. May be the word is hate, but I avoided them like a plague. I did not want my path to cross with theirs and when I was set for National Service, I prayed and wished fervently that I would not be posted to 'their' land. If they could be that pugnacious in Lagos, that means they would roast a visitor in their land, I reasoned. Of course, I would have struggled to resist a posting to the East for my NYSC, but luckily, I was posted to Kaduna. At Kaduna, I saw a couple of Igbos who owned businesses, who were somewhat more refined than the ones I was encountering in Lagos, but that inherent factor of fighting for their rights remained rigid in most of them, even as nobody can take away the fact that they worked hard at whatever they do.
I had this impression ingrained in my brain until one fateful incident in September 2011. I had arrived Abuja on Saturday, September 3, to see my friend Akin, who was encouraging me to be visiting Abuja regularly in the hope that one could secure a place to work after our Service. That evening Akin was not in a good shape. He kept complaining of discomfort in his chest area and I thought it was just a minor issue, until later that night, when my friend collapsed in his room. It was 2.45am. I was rattled and could not come to terms with what to do. I cried for help amongst Akin's neighbours, and one of them arranged a tricycle that took us to one hospital in the Nyanya area where Akin lived. 
At the hospital, the doctor told us, he needed to be operated on immediately, but that we needed to make a deposit of N680k! Where on earth would one get that kind of money? Akin's only relative in Abuja was a cousin of his, who was a mechanic and after he answered the first call where I broke the news, he never picked his phone again until it was quietly turned off. I was confused and cursed my trip to Abuja and the unfolding scenarios. At the hospital, the doctors kept reminding us that our brother was at the verge of death and at a point, they tried referring us to the National Hospital. I guess it was a way of getting rid of us, since we did not have any money to make the deposit.
But one of the nurses, a Godly woman named Sotonye, was touched by our plight and told us she would relate our situation to someone who had been helping people in similar situations. She told me, the man was a very nice Igbo man, who would never spare his little resources in bringing succour to the poor. An Igbo man? I wondered aloud, refusing to depend on the potency of this effort. I was there when she made the call, but the person did not pick. Some minutes later, the person called back and the nurse began to explain how a Youth Corper was brought to their hospital and all that and instantly succour came! The deposit was paid and when I asked who the man was, the nurse told me he worked in the Presidency and that his name was Akachukwu Nwankpo.
Although, I would have loved to meet with him and thank him with profuse apologies for how I had hitherto held his tribesmen in disdain, I never got the opportunity. Nurse Sotonye, simply told me it was not in his character to take glory for any assistance he renders due to his belief that God places people in certain positions to render services and benevolence for the sake of humanity. Nurse Sotonye told us that he was one of the very few people in Government, whose lines are always accessible to everyone even the poor.
I cannot help recounting this experience after I read in the newspapers that this same man is offering to serve his people as a Governor. I may not have money to assist his political quest to touch the lives of the people in his state, nor can I physically come to support him with my vote since I am a Yoruba man. All I have is prayer: God should open the eyes of Anambra people to see the golden heart of the man called Akachukwu Nwankpo.
Ndi Igbo kwenu! I apologise again for my initial impression of you.